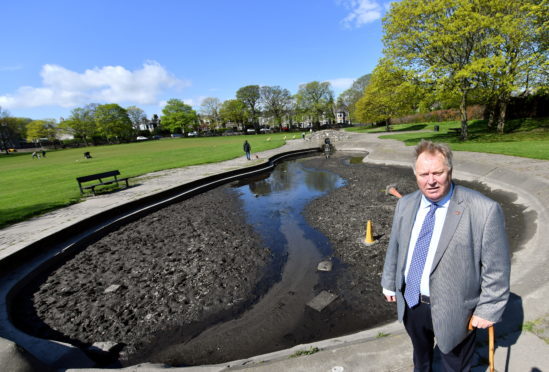 A government environment watchdog could launch an investigation into polluted waterways at a popular Aberdeen park.
The ponds at Westburn Park are clogged with litter, including rubber gloves and items believed to be drug paraphernalia.
Foul odours have also been emanating from the water and park users fear that will only get worse as the weather improves.
Council officers were contacted by concerned local residents and councillors about the "complete mess" but it's understood they can't start their clean up until the Scottish Environmental Protection Agency (Sepa) has carried out investigations.
The ponds have long been a popular attraction for city residents – especially in the summer months when children often paddle in them.
At present, however, they are clogged with silt, which sources warn could conceal potentially harmful items, including syringes.
Rosemount and Midstocket SNP councillor Bill Cormie said he was worried about the contents of the waste and received daily complaints from local residents.
He said: "There have been rubber gloves and other waste among the rubbish and silt in the ponds.
"Several users of the park have complained to me about the state of them as they make the park look a complete mess.
"Officers have told me that they intend to clean the ponds but need permission from Sepa before they begin.
"Sepa should never have to be involved in this and I was shocked they were even mentioned in the response I received from officers.
"The smell is just awful and it is only going to get worse in this weather. Anything could be in that mud. It is bad enough to have dogs running in it never mind children.
"Generations of children have played in that water which should be running completely clear. It's a mess."
An internal council memo reveals clean-up work was due to take place last month but the yard at the park depot was unavailable as it was being utilised by the contractor relaying the tennis courts.
That work is due to finish at the end of the month enabling grounds staff to begin cleaning the ponds – but only "if Sepa permit this action".
It is understood the organisation will be required to give a permit for the works to ensure they don't impact the environment further.
Last night a council spokesman could not confirm the scope of the work or whether a Sepa permit would be required.
A SEPA spokesman said: "If Aberdeen City Council submit proposals to Sepa for the required work, we will assess these and ensure appropriate controls are in place for the work to be carried out with minimal environmental impact."
Council operations convener John Wheeler said he was meeting with park bosses today on the issue.
He added: "We take the upkeep of our parks and outdoor spaces very seriously."