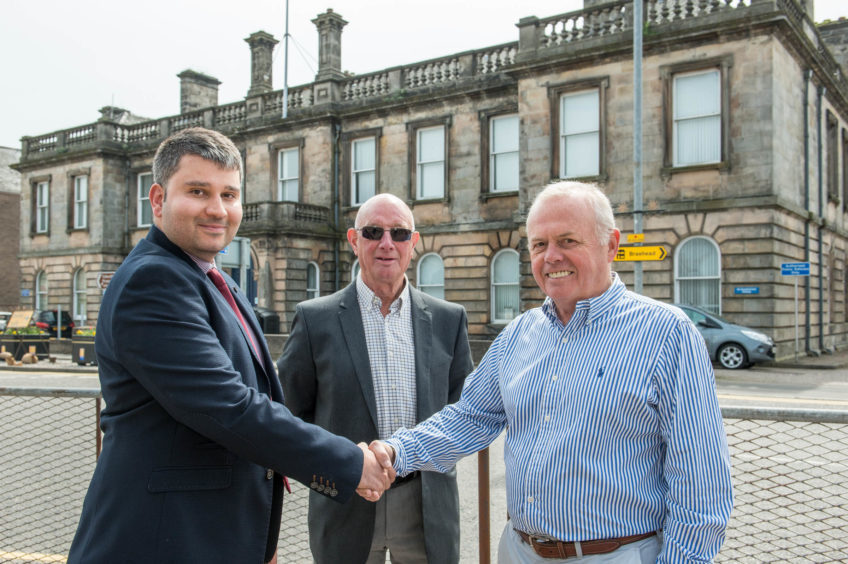 Campaigners were celebrating yesterday after it was announced that a historic court building will be handed over to a community in Stonehaven today.
The Scottish Courts and Tribunals Service (SCTS) decided to transfer the courthouse into the hands of a charity after it launched a successful bid for the building.
The Stonehaven Town Partnership (STP) paid a nominal £1 fee for the site after proving its financial case and future proposals would be of benefit to the community.
The transfer, which was arranged under the Community Empowerment Act, was made on the condition that the full £150,000 refurbishment costs would be funded by the charity.
Partnership trustee James Douglas said the charitable organisation is now applying for European funding only available to applicants who own property.
He said: "We are very happy to have acquired the court building.
"It is proposed to retain the court room in its original form as a heritage room.
"The building will be available for hire to groups for meetings, school debating societies and possibly TV companies for programming.
"We are now in the middle of applying for Leader funding – but we needed the title deeds before we could do that – the whole process has been quite complex."
The STP is a charitable organisation that was established to promote and encourage voluntary activity within the local community of Stonehaven.
It intends to turn part of the building into rentable office space and has indicated possible uses for the main courtroom as a mock trial practice area for school pupils or a wedding and performance venue.
The Citizen's Advice Bureau, Horizon group, Drugs action, Aberdeenshire voluntary action, charity PAMIS and the Aberdeenshire council employability service have all given the STP letters showing interest in taking on a space inside the old 19th century court building.
Chief finance officer for the SCTS Richard Maconachie said: "We are delighted to be able to hand over this important and historic building to the partnership which will enable it to remain a vital community centred asset to Stonehaven."
It is hoped the building will be refurbished later this year.