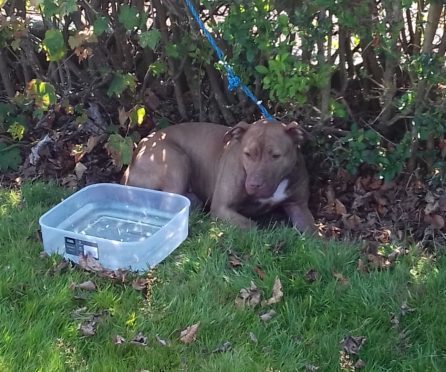 The Scottish SPCA is hunting for the heartless owners of a dog left tied up in an Aberdeen park.
The Staffie cross was found tied to bushes, and without any water, in Stewart Park, in the 20C heat.
A member of the public spotted the pooch – which has now been named Naomi – and raised the alarm.
She is now in the care of the Scottish SPCA at their rehoming centre at Drumoak.
Inspector Fiona McKenzie said: "We cannot be sure how long Naomi was tied up for, but in this extremely hot weather it wouldn't have taken long for her to dehydrate.
"We're hopeful that someone will recognise her and contact us as we are keen to identify her owner and establish how she came to be there."
Her owners could be banned from keeping animals if found guilty of abandoning or causing her unnecessary suffering.
Anyone with information regarding Naomi's owner are urged to contact the Scottish SPCA Animal Helpline on 03000 999 999.