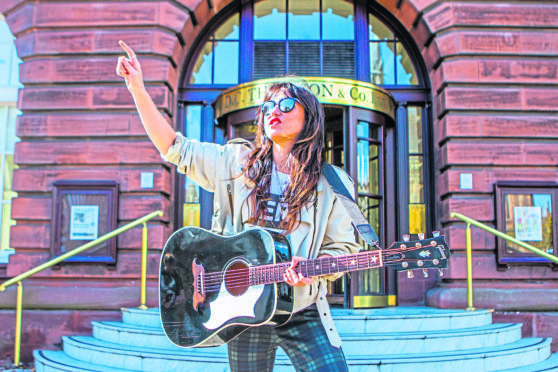 Pop star KT Tunstall returned to her busking roots yesterday afternoon giving a special impromptu performance in Dundee city centre.
The St Andrews singer played outside DC Thomson's Meadowside office just hours before taking to the Slessor Gardens stage to launch Sleep In The Park 2018.
KT, alongside fellow Scottish star Amy McDonald, will perform in four cities in one night in December.
In Aberdeen they will perform in Duthie Park and will be joined by Eddi Reader, Kris Drever (Lau), Adam Holmes & The Embers as well as other guests which are yet to be announced.
The pair will fly by helicopter, kindly provided by Andrew and Yvonne Devlin of Curtis Moore Group.
All of the airports involved have also agreed to waive their fees on the night.
Organised by Social Bite, the event is looking for 12,000 volunteers in Dundee, Glasgow, Aberdeen and Edinburgh to raise money to tackle homelessness.
Tunstall, whose new album Wax is released worldwide next month, performed her latest single The River and hit Suddenly I See.
She told the gathered crowd about her worst ever busking experience in Dundee – which happened on the old overpass connecting the old train station with the demolished Olympia swimming pool – where she was moved on by police despite not making any money.
As the Black Horse and the Cherry Tree star played to fans on Sunday, two police officers made their way into the crowd, where they were greeted by a very happy Tunstall – who playfully asked not to be moved on again.
KT said she was honoured to be involved in the Social Bite campaign.
She said: "For homeless people in the UK, it is an incredibly tough life.
"I don't think we should be living in a society where this is happening.
"Events like Sleep In The Park are really good because it is very easy to go about your day and forget about these situations when you are not having to live them yourself, so reminding the public there is still a major homelessness problem in Britain is very important.
"I'm going to be playing the event on December 8, along with Amy MacDonald and a host of other wonderful artists, where we will try to play in four cities in one night.
"We have the assistance of a helicopter which will most definitely help. It is a really exciting thing for us to do but obviously the point of it is focusing people's attention on the point in hand, but doing it in a really meaningful, fun and positive way is always a good plan."