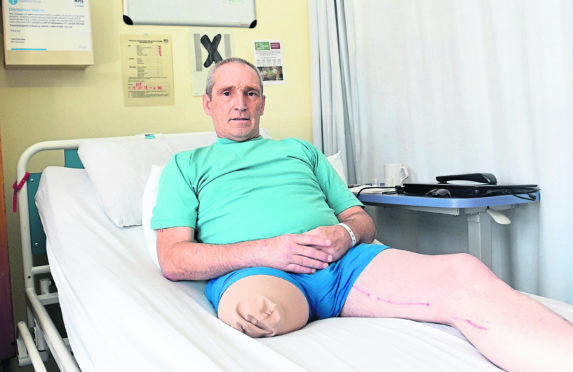 A motorcyclist who lost his leg and almost died in a horrific crash was told he was "not ill enough" to warrant a hospital visit to set up the benefits payments needed for him to return home.
Doctors said Steve Cruickshank was "lucky to be alive" after a collision between his Honda Firestorm and a van in the Guild Street area of Aberdeen in July.
He has been recovering in hospital since, as he suffered several serious injuries and had his right leg amputated.
But the ordeal was worsened following a string of delays in arranging the Universal Credit benefit payments he needs to adapt his property.
The 58-year-old – who paramedics feared would die before they got him into an ambulance – claims that at one point, he was told his predicament was not severe enough for the Department of Work and Pensions (DWP) to send someone to meet him to begin the process.
---
>> Keep up to date with the latest news with The P&J newsletter
---
And his first Universal Credit claim was cancelled when he was unable to personally attend an appointment at Ebury House in Aberdeen.
As the situation wore on he feared becoming a bed-blocker at Woodend Hospital, where he is receiving physiotherapy in the hopes of getting out next month with a prosthetic limb.
It was only after the Press and Journal contacted the DWP that it was agreed Mr Cruickshank's payments "as soon as possible".
Mr Cruickshank, from Auchnagatt, said: "I have been stuck in limbo as the hospital is legally obligated to keep hold of me until they know I am going to a safe house adapted to suit my needs.
"I don't want to be a bed-blocker, but until the Universal Credit was arranged I couldn't sort out things like getting an adapted vehicle, or making my house disabled-friendly.
"If I don't have a safe house to go to, then the hospital can't let me go and I am holding up somebody else's rehab.
"But when I asked for someone to visit me to set that up, I was told I wasn't ill enough."
Mr Cruickshank began his working life in the Merchant Navy, and started a career in Aberdeen's growing oil and gas industry in the late 1970s.
He lost his job with Subsea 7 in the downturn last August, but had been working at the Cameron offshore repair and storage base in Cove as a forklift driver for five months before the accident.
As a result of the crash on July 25, he right leg was "smashed" and his right hand was so badly crushed it needed to be screwed back together.
He also suffered a brain aneurysm, a bruised lung, bruised spleen, a torn carotid artery and a burst femoral artery which almost caused him to bleed to death on the road.
He said: "I was lucky to make it to the ambulance because I could have bled out, so I am happy to be here, having lost a leg, as opposed to being grumpy about losing a leg."
After three weeks at Aberdeen Royal Infirmary, Mr Cruickshank began his rehabilitation at Woodend Hospital and began to wonder how he would cover his rent.
He received three weeks of pay from the agency he worked for prior to losing his job, and applied for Universal Credit towards the end of August.
But Mr Cruickshank ended up having to borrow money from his 82-year-old mother to keep his home, as his application stalled.
The claim was cancelled a month later because Mr Cruickshank was unable to make an appointment in person.
He was also left frustrated by a request to advise "what he was doing to find a job" when he was in hospital and yet to learn what sort of work he might be capable of upon completing rehab.
Last night, the Department for Work and Pensions confirmed that an investigation had been launched into the handling of Mr Cruickshank's application.
A spokesman said: "We have apologised to Mr Cruikshank and have arranged for him to be paid as a matter of urgency."
---
Surgeons tried but failed to save smashed right leg in 11-hour op
Paramedics feared that Mr Cruickshank would die from blood loss before they were able to take him to hospital, after the right side of his body was pulverised in a crash.
The 58-year-old remembers nothing of the accident which changed his life forever.
But he can recall waking up following 11 hours of intensive surgery, and being told he was fortunate to have survived.
Surgeons sliced open his left leg to remove some of its healthy veins and transplant them into the "smashed" right leg in an effort to restore circulation and save the limb.
Mr Cruickshank was told he his right knee had experienced a "shotgun injury", which means that the bone was shattered as if blasted at close range by a gun.
The keen motorcyclist, who had been biking for more than 40 years, is unlikely to ever ride again.
However, he is unwilling to allow the situation to get the better of him.
He said: "I have about eight years of my working life left, and would like to think I could take up some sort of a job.
"I would prefer to go back offshore, as it seems to be picking up again, but know that might be tricky.
"A lot of people in this situation might have crumbled, especially given the stress caused by the DWP, but I think you just have to get on with it."