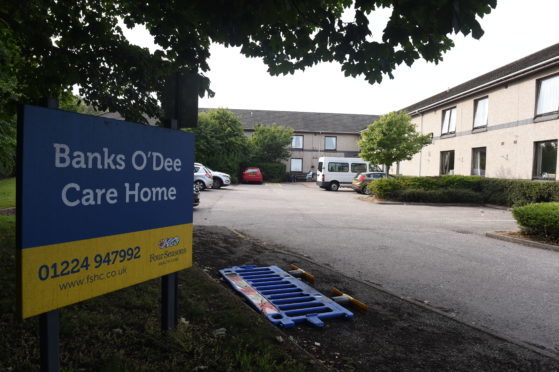 A urine-soaked Aberdeen care home where residents were left to their own devices will close, following a damning report by the Care Inspectorate.
Earlier this year, the social care watchdog ordered staff at Banks O'Dee in Tullos to make urgent improvements, and cited a plethora of "serious" concerns.
The order came following a string of poor inspection reports, including one from an unannounced visit in September where staff were told a corridor had "a strong smell of urine, because some of the men were doing the toilet there".
Fears were also raised regarding the residents' daily routines, with many being left with no stimulation to the detriment of their quality of life.
An inspector noted: "Some residents did go outside to smoke, but that was the limit of their daily exercise."
Four Seasons Health Care, which operates the care home, were given a deadline of March 11 to implement major changes.
However, today the care provider has now issued a formal notice that it will close the site, which is home to 41 residents.
Amanda Cunningham, chief operating officer of Four Seasons Health Care, said: "We announced in February that we intended to cease operating the home.
"Although there was some interest from other operators, regrettably this has not led to a commitment from any of them.
"We will work with the Health and Social Care Partnership to support residents and their families to make appropriate alternative care arrangements.
"Banks O'Dee will continue to provide care while we allow plenty of time for this to happen."
Sandra Ross, chief officer of the Aberdeen Health and Social Care Partnership (AHSCP) said they have 13 weeks to find the residents new accommodation.
It is understood that the AHSCP is already putting in place alternative arrangements for the 41 residents.
She said: "Four Seasons Health Care, the private provider of care at Banks O'Dee, was given an agreed time period to seek an alternative provider to take over the running of the home.
"This followed notification of their intention to withdraw service after a contractual notice period.
"Formal notice has now been received from Four Seasons of their intention to proceed to closure, because no viable alternative options have been found.
"Our priority is the care and wellbeing of the 41 residents in Banks O'Dee. We will continue to liaise closely with the residents and families impacted by the decision of Four Seasons.
"Together with partners, we will ensure that support and advice is provided to the families and the residents.
"We will continue to work closely with the provider to ensure a smooth transition for residents to alternative accommodation."