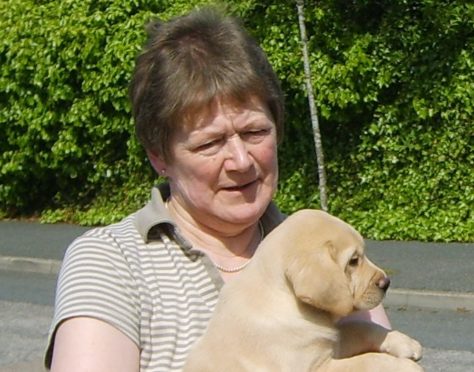 A woman who spent years training guide dog puppies has received a fitting tribute following her death, with one of the helpful hounds named in her memory.
Christine Neish gave up countless hours preparing puppies for a lifetime of assisting people with sight problems, offering up her Aberdeen home to seven puppies for a year's worth of walking and training each time.
She died from ovarian cancer in April 2017, at the age of 69.
What does it take to train a guide dog and how can you help them?
Less than a year earlier, the Alford native was named local volunteer of the year during a national awards ceremony.
And now, her name will live on through the Guide Dogs charity.
A 14-month-old dog has been named Kirsty – Mrs Neish's family name – and will soon leave her walker and embark on the next stage of training at the organisation's Forfar base.
About £2,000 was raised for the charity at her funeral, and Mrs Neish's colleagues at the local branch amassed a further £3,000 to cover the £5,000 cost of naming the dog after her.
Mrs Neish, who was married to husband William for 47 years, was also mum to sons Duncan, Gordon and Stuart.
Mr Neish, a former Press and Journal reporter and council press officer, said the family had taken some comfort from the tribute.
He added: "This is absolutely what she would have wanted, she was such a dedicated supporter of the charity.
"She got involved because she had the time available and wanted to help others.
"And, of course, she was a big dog lover.
---
>> Keep up to date with the latest news with The P&J newsletter
---
"It was sometimes hard handing the dogs back after a year, but we knew they were going off to do something very worthwhile.
"In time, she became secretary of the Aberdeen branch and was in charge of organising all the other volunteers and fundraising events."
Pup Kirsty was recently a special guest at the annual meeting of the Aberdeen branch of the charity.
The group posted a tribute to Mrs Neish on social media afterwards, along with some pictures of the welcome guest.
It said: "Christine was a lovely lady, a fantastic volunteer for so many years doing amazing work for Guide Dogs Scotland and also a good friend to many of the other volunteers. Very much missed indeed."