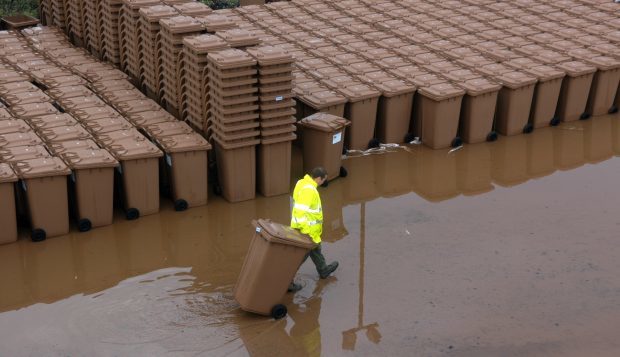 Aberdeen residents will soon have to stick special permits to their bins to prove they have paid for them to be collected.
Last month, the council approved the roll-out of a garden waste charge as part of their £41million cost-cutting plans.
Residents using their brown bins for anything other than food waste, including grass clippings and fallen leaves, will now have to pay an annual £30 fee to get it picked up during kerbside collections.
If not, they will have to compost it or take it to a recycling centre.
The local authority has now revealed that it will police the new system, to be implemented "later this year," by making people attach permits to their bins.
And it has begun searching for a firm which can design, print and distribute the soon-to-be mandatory tags.
Similar schemes have been rolled out in Moray and the Highlands, with unhappy residents fearing they could lead to increased fly-tipping.
Councils have a legal duty to collect food waste as part of their regular service but garden waste falls outside the remit, allowing them to cut costs by charging residents extra.
Despite the financial savings to be made, the city council's Liberal Democrat group has vowed to do "everything it can" to axe the surcharge.
Group leader Ian Yuill accused the authority of "penalising" those trying to do their bit for the environment.
He said: "Garden waste collection is an important council service and should be paid for from council tax.
"Composting green and garden waste is important for our environment."
An Aberdeen City Council spokeswoman said: "Garden waste collection is not a statutory service and the council can make a charge for this service and several councils in Scotland have already opted to do this.
"Garden waste can also be home composted or can be deposited at a local household waste recycling centre free of charge.
"Food waste collection is a statutory service and will still be collected in the brown bins with no charge."