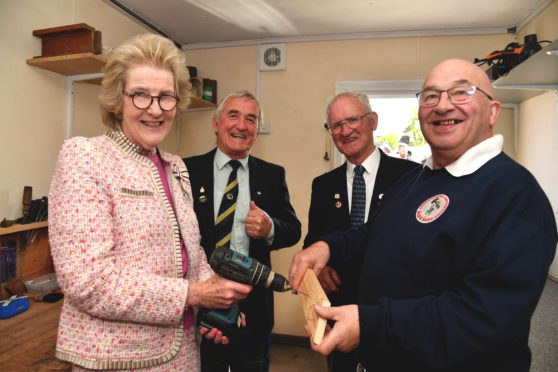 They are one of Scotland's biggest success stories in tackling loneliness and social isolation.
And now, a north-east group, which is encouraging people to take up new hobbies and help the community, has officially opened for business.
Aberchirder and District Men's Shed launched in 2017, but initially struggled to find a permanent meeting place.
However, last April, the organisation reached a deal with Aberdeenshire Council to secure land  for the project – the former Doran housing site on North Street.
Following a year of dedicated work, the Men's Shed now has polytunnels and a facility which participants can use as their meeting space and workshops.
Lord Lieutenant of Banffshire, Lady Clare Russell, formally opened their premises on Saturday in front of a crowd of more than 200 people.
Secretary Jim Paterson was glad the event went "exceptionally" well.
He said: "It was absolutely pouring rain in the morning and then it got better and better so we had an excellent afternoon.
"The opening went very well – exceptionally well, in fact.
"The Lord Lieutenant of Banffshire opened it at 2pm and read out a letter from Buckingham Palace in recognition of the shed.
"We were then surprised by one of our sponsors George Baxter from the Gordon and Ena Baxter Foundation who gave us an engraved slate.
"The turn-out was amazing, we had 200 programmes printed and all were handed out to people."
The Men's Shed concept started in Australia and has since spread across the globe with the purpose of offering men of all ages a place where they can talk and pursue new hobbies.
While searching for a base, the Aberchirder group had only 36 members.
But now, they have nearly doubled that with around 65 people signed up as part of the Scottish Men's Shed Association.
Mr Paterson said: "We had so much interest in our polytunnel which we're going to use to grow vegetables. Locals can then come in and help themselves for a donation.
"Our biggest project at the moment is helping the local primary school – we're making them some outdoor chairs for the small kids to sit on, so we've got the timber ready."
The Shed is located at 5 Bronchal Place in the village and membership is free.