Fire-hit trawler in Macduff Harbour appeared on reality TV show
By
David Proctor
July 2, 2019, 6:08 am
Updated: July 2, 2019, 6:48 am
Firefighters were called to a blaze on a trawler featured in a new reality TV show yesterday.
Crews from Macduff, Portsoy, Aberchirder, Turriff, Peterhead and Aberdeen worked for more than an hour to extinguish the fire on the Banff-registered Genesis.
The drama unfolded just hours before the boat appeared on Channel 5's new programme Trawlermen: Celebs at Sea.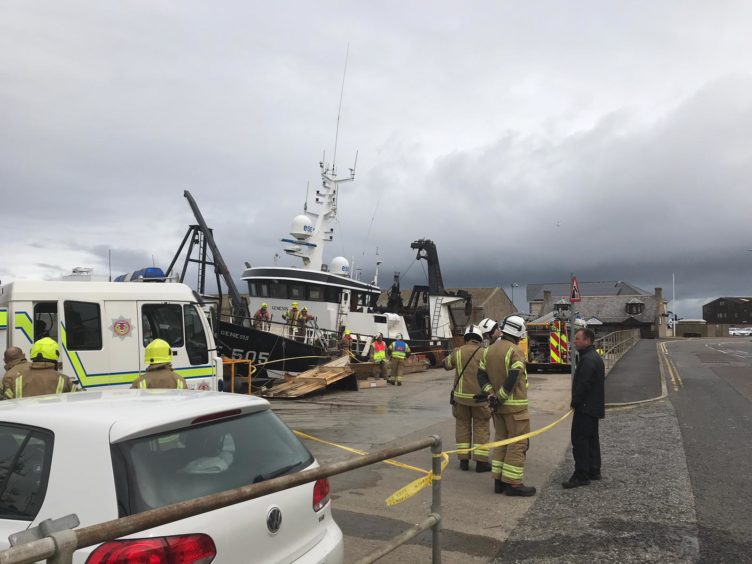 In the show, Former England rugby player Ben Cohen, Boyzone singer Shane Lynch and celebrity chef Anthony Worrall Thompson went out to sea to experience firsthand the challenges trawlermen experience on a daily basis.
Genesis is currently moored at Macduff Harbour while her engine is replaced.
And yesterday, skipper David Watt said he believed it was those works that may have sparked the flames in the fish room.
Mr Watt, who owns the Genesis with his brother Alan, said insulation and a wooden frame caught fire while maintenance teams from Macduff Shipyards were working.
Mr Watt was on the quayside when the smoke began billowing from the boat just before 9am.
He said: "We are changing the engine so we are just preparing and cutting a hole for it to be taken out.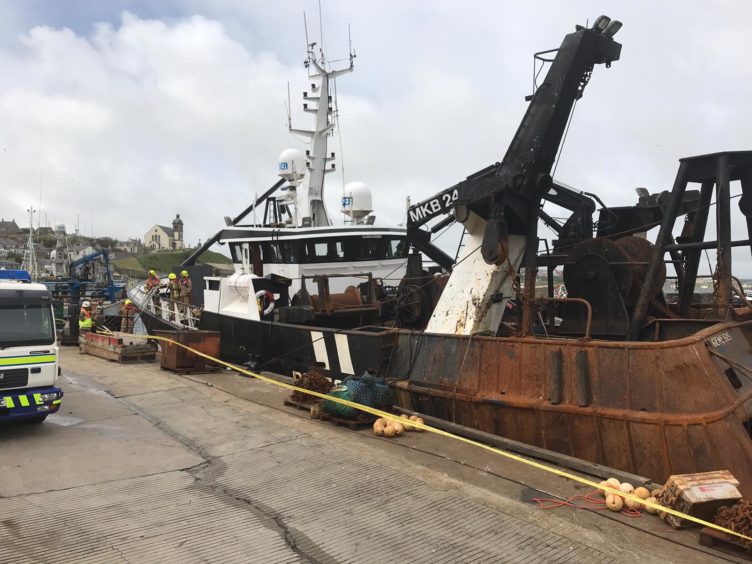 "The insulation is between the superstructure of the boat and the wooden frame of the fish room.  The fire was in the fish room.
"There were fumes and a bit of smoke, but everybody got out and the fire brigade came and extinguished it.
"I don't think there is too much damage, but there was a lot of smoke."
Sandy West is the manager of the Don Fishing Company and his shop looks out onto the harbour.
He could see the incident taking place and said the fire service were on the scene quickly.
Mr West said: "I saw the smoke but I thought it was just them starting the engine.
"I could see the boys on their mobile phones and the fire brigade arrived just minutes later."
Last night, a fire service spokeswoman confirmed details of their operation at the harbour.
She said: "We got a call at 8.51am and sent appliances from Macduff, Portsoy, Aberchirder, Turriff, Peterhead and Aberdeen to the scene.
"We received the stop message at 10.46am."