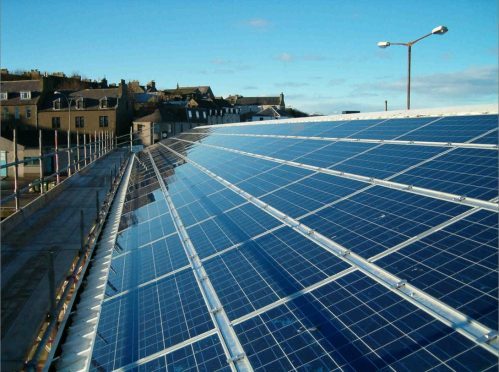 Aberdeen council bosses have escaped having to pay a multi-million pound bill to remove dozens of solar panels from across the city, following a new legal judgement.
Last year, Our Generation Solar Limited failed in their bid to recoup £8million from the city council in the Court of Session in Edinburgh as well of the cost of removing panels from 72 properties in Aberdeen.
However, the firm lodged a 'reclaiming motion', essentially an appeal, against the decision which has also been rejected by judges according to new court documents.
The council entered into an agreement with Mark Group Ltd and Our Generation Ltd for the supply and installation of photovoltaic panels to 72 buildings in 2012.
However, the local authority later switched off the devices due to fire fears.
At the centre of the latest dispute, was the council's non-payment of bills from October 2016 and the firm's insistence that the council pay for the costs of removing the equipment on the basis they validly terminated the contracts.
An email was sent by the firm in July, 2017, requesting payment under the heading "Statement of Account".
Solicitors for the firm then wrote to the council seeking to terminate the 72 individual site agreements and again demanded payment.
But it has been found the agreements were not validly terminated – as the company did not follow up on their letters in the proper legal manner – and the wording used was not clear enough to constitute an official written notice.
In a written judgement delivered by Lord Carloway, the Lord President of the Court of Session, dated July 23, he  stated: "There had, however, to be specific reference to the requirement to pay within 20 Banking Days, which was a special feature of the clause and differed from the normal payment terms, to enable the recipient to understand that this was a particular requirement being made under the contract.
"As matters stood, the recipient was not put on notice that the attachment of a statement of account to the email, apparently in the normal course of business and relative to the provisions on payment and not termination, meant any more than that.
"The reclaiming motion will be refused."
A council spokeswoman said that the local authority noted the judgement and declined to comment further.
Our Generation Limited could not be reached for comment.