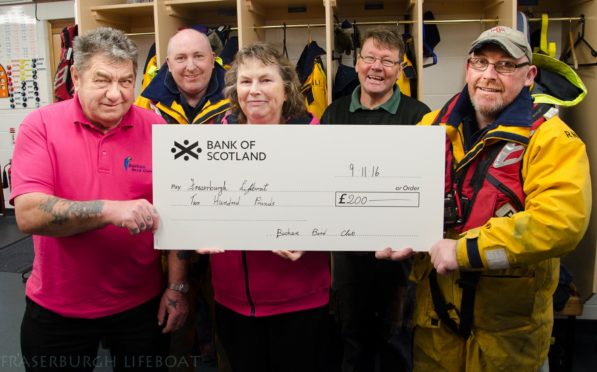 A "much loved" fisherman and founding member of a north-east bird club has died.
Douglas Beedie, known as Dougie, died suddenly at home on August 18, aged 72.
Friends and family described him as "affa fine" and said he got along with everybody.
Mr Beedie, along with wife Isabel, was a founding member of the Buchan Bird Club in 2016.
The group, which now with more than 800 members on Facebook, brings together people who enjoy keeping pet and aviary birds large and small, and gives them a place to share tips and advice.
The club has also raised significant funds for local charities, including Fraserburgh RNLI.
The cause was close to Mr Beedie's heart, due to his 28-years as a fisherman in the north-east.
He helped organise the Buchan Bird Club's first fundraising sale at the public hall in New Pitsligo.
The event was attended by a large crowd who raised enough money to cover the club's costs and expenses, with a further £600 going to local causes.
Norman Robertson, secretary of the bird club and a close family friend, said: "Dougie was a humble guy, really well liked by everyone.
"Me and him were really good pals.
"Sometimes you just get drawn to people and know instantly you'll get on well – it was like that with me and Dougie.
"He was a founding member of the Buchan Bird Club – there was really nothing else like it in the area when we started it.
"We'd raised a fair bit of money by the end of our first year we had made donations to the RNLI, Macmillan and Guide Dogs.
"We were lucky to have Dougie – he will really be missed."
In a statement on the Buchan Bird's Facebook, the committee said: "It's with immense sadness, we are announcing the passing of Dougie Beedie.
"A very loved member and a founder of Buchan Bird Club.
"His lovely wife Isabel is also the club treasurer and we send her massive sympathies."
Tributes for the former fisherman have since rolled in.
Club member Liz Munro wrote online: "I am so saddened to hear this news.
"Dougie was a lovely man and will be sorely missed by everyone who knew him."
Kevin Thain added: "It is truly tragic to lose a friend like Dougie, he will be deeply missed by everyone who knew him.
"My sympathy to Isabel and his family – I am proud to have known him."
Mr Beedie's funeral will be held at 11am today at the Funeral Chapel, Denmark Street, Fraserburgh and thereafter to Cairnbulg Cemetery.
Donations may be given in lieu, if so desired, at chapel door in aid of RNLI Fraserburgh.