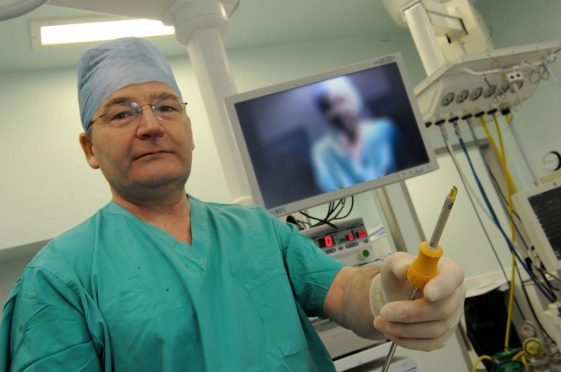 The Queen's former surgeon has denied telling colleagues he would "destroy careers" during a heated argument.
Professor Zygmunt Krukowski has taken NHS Grampian to an employment tribunal and claims he was unfairly dismissed.
He was suspended from his role at Aberdeen Royal Infirmary following an investigation into his conduct at the hospital in 2015.
He was cleared by the General Medical Council (GMC) of any wrongdoing in July 2016 – but left the health board shortly afterwards.
During the second day of the tribunal, Prof Krukowski was questioned by NHS Grampian's defence counsel, Ian Truscott QC.
He read out a report from the GMC describing Prof Krukowski's "aggressive behaviour" during a work meeting.
In the document, a colleague claimed Prof Krukowski entered the meeting and said: "Who is questioning my authority" or something similar and went on to act aggressively.
Mr Truscott put it to the surgeon that the discussion had escalated to the point where medical students and nurses started to leave the room.
Quoting from one complainer in the report, Mr Truscott said: "He was being intimidating and no one wanted to stand up to him in fear he would 'destroy their careers'."
But Prof Krukowski denied saying he would "destroy careers".
He told the panel: "I embarrassed myself by becoming angry.
"I should have watched my temper and I apologised at the first opportunity.
"I said that it would not happen again and it did not happen again."
Throughout the proceedings, the surgeon said he disagreed with statements in the reports put together by the Royal College of Surgeons (RCS) and the GMC.
Mr Truscott put it to him that his behaviour had been described by colleagues in the RCS report as "unfairly aggressive" and discriminatory.
But Prof Krukowski said he thought it was "remarkable" they could include an "inflammatory" statement without approaching him.
The tribunal heard that the RCS investigation had found "unprofessional, offensive and unacceptable" behaviour in the ward and had urged NHS Grampian to look into it.
Prof Krukowski disagreed with the report and said that the investigation being conducted externally had only "aggravated" the situation.
When asked by Mr Truscott if he did not think the investigation would allow people the "voice to say what they were too afraid to say before", Prof Krukowski answered: "I never thought that my colleagues were shrinking violets".
The tribunal continues.