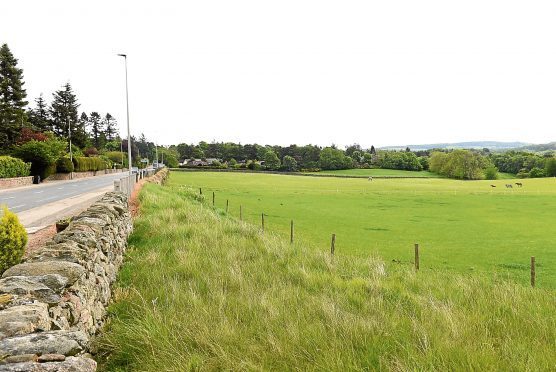 An Aberdeen community fears its tranquil surroundings will "disappear under more concrete", likening a proposed major development to deforestation in South America.
Bancon Homes has identified a 11.5 hectare site – currently fields – to the south of North Deeside Road for the building of 60 houses as well as retail and office space.
In 2017, a reporter ruled that the three fields near Milltimber should replace sites already designated for development west of the AWPR.
That decision was subsequently scrapped as the reporter was deemed to have exceeded his power of authority.
But just when local residents were breathing a sigh of relief, the local authority included the fields in its Local Development Plan, prompting Bancon to submit a pre-application notice of their plans for the site in October.
The proposals are a joint application between Bancon Homes and Dr William Guilds Managers.
Residents living on North Deeside Road say the land has been considered "prime Green Belt land" for at least 50 years and claimed this status had been disregarded without consultation.
Spokesman for the group, Pierre Fouin, said the development "contravenes all the Green Belt stands for".
He said: "These sublime, tranquil fields beyond Tor-na-Dee open up the unfolding splendour of Royal Deeside.
"Having survived a reporter's blunder that passed them for residential and retail development they now, amazingly, appear up for development again.
"This misuse of our heritage should not only concern local residents, but all who treasure this wonderful valley.
"I am fully aware that the cynical will shout "nimbyism" but this is so much more important and I would be fighting it even if I lived in Braemar."
He added: "The plans for these fields are not so different to the abuse of the rainforest in South America – both are irreplaceable assets."
A joint statement from Bancon Homes and Dr William Guilds Managers said: "We held a public event on November 4, with a second being held this week to give some feedback on the landscape-led design development.
"We have listened to the comments, which have been constructive and meaningful and included views on the landscape strategy, technical issues such as access, drainage and the scale of the proposals.
"Our aim is to create a highly desirable development that fits within the existing landscape.
"We welcome the local community's continued engagement as we shape the plans before submitting a planning application early next year."