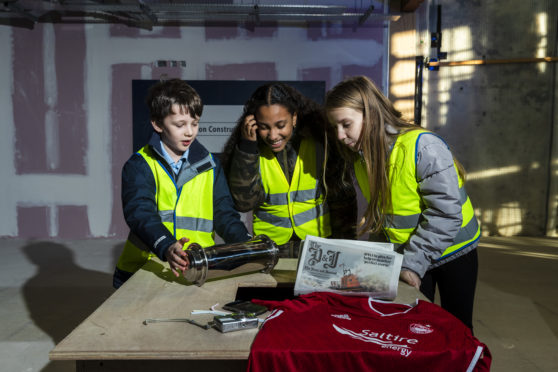 School pupils have buried a time capsule underneath the Aberdeen Science Centre to show future generations what life was like in 2019.
The youngsters from three local schools put a camera, mobile phone, an Aberdeen FC top, a plastic straw, some money and a copy of the Press and Journal into the container to mark the £4.7million transformation of the centre, which is due to reopen next summer.
The children also wrote letters about their lives for future children to uncover and read in years to come.
Bancon Construction, the company tasked with the redevelopment, organised the time capsule competition alongside the science centre.
Liz Hodge, project director at Aberdeen Science Centre said: "This is a really exciting time for everyone at the science centre as we prepare to welcome visitors to our redeveloped venue, and the time capsule competition has allowed us to involve the local community in this journey."
Gavin Currie, managing director of Bancon Construction said: "The capsule has been safely buried within the structure of the building and while we don't know when it will be discovered, it's now a special part of the project which wouldn't have been possible without the support from the local community."