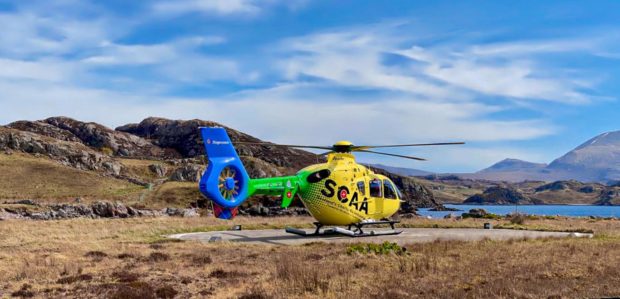 Aberdeen's new helimed first took to the skies one month ago – and already its crew have made a life-changing impact to people in Grampian and Highlands.
With fewer people working and getting out and about due to lockdown, the Dyce-based team of Scotland's Charity Air Ambulance (SCAA) have had a slower start than perhaps imagined.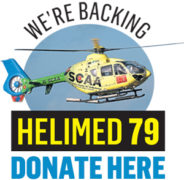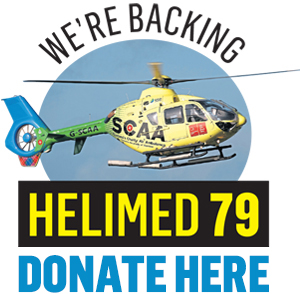 Since starting operations out of the base at Aberdeen airport on April 3, they have been called to eight emergencies in all corners of the north.
And for those they have helped, the difference made has been absolutely vital.
Much has been made of the improvements Helimed 79 will make for those in rural Aberdeenshire to access to the best emergency treatment– but it's true its effect will be felt much further afield.
This was shown late last month when a woman was injured in a cycling accident.
The Aberdeen crew was flown 140 miles to Kinlochbervie on the north-west coast and took the casualty to Raigmore Hospital in Inverness in around half an hour.
By road, the same journey would have been at least five times longer.
A first long-distance job for the Helimed 79, it came with new challenges – including the pilot leaving the crew to tend to their patient while he flew across to Stornoway to fill up on fuel.
But the ability to drop-in and aid regional ambulance crews in remote and rural locations is not only about slashing transfer times.
SCAA's lead paramedic in Aberdeen, Ewan Littlejohn said: "If the crew in Kinlochbervie took the three hour drive to Inverness, there might be no ambulance in that area while they were away.
"By the time you factor in the period on scene, at hospital, any cleaning and the return journey; that's the end of their shift.
"It's the same up the Buchan coast as Peterhead and Fraserburgh are an hour transfer to Aberdeen Royal Infirmary by road.
"So we are supporting divisional crews and keeping road ambulances in their communities."
Last Tuesday brought another first, when Helimed 79 was called to a serious crash on the A96 Fochabers to Keith road.
Accompanied for the first time by the airport-based emergency medical retrieval service (EMRS) team of consultant doctors, the crew landed right at the scene near Drumlachs.
Elgin mum Leigh-Anne Wood was killed in the three-vehicle crash but the SCAA crew airlifted a man to Aberdeen Royal Infirmary.
The air ambulance was involved in another landing amid dramatic scenery earlier in April, after a young man fell and broke his leg in Cummingstown near Burghead.
The EC135 T2E landed on a grass area near the cliffside and the casualty and his mother were flown to ARI.
In their first week on the job the Helimed 79 team helped patients in Turriff, Oldmeldrum and Buckie; and have also helped patients in Huntly and Alford in the weeks since.
---
Scotland's Charity Air Ambulance has made a huge impact since 2013, saving lives and preventing suffering.
That is why the P&J campaigned successfully for SCAA's second helicopter to be based in our region.
This is an emergency service that relies entirely on donations.
Each call-out costs about £2,500 and SCAA needs P&J readers to help hit its £6million target and get things off to a successful start.
So please do anything you can to raise those funds and show that We're Backing Helimed 79.
---
Ways to donate to SCAA
Website: www.scaa.org.uk/donate
Text: Text 'SCAA' and the amount to 70085
Phone: 03001231111
Cheques: Made payable to 'SCAA' or 'Scotland's Charity Air Ambulance' and sent to: Scotland's Charity Air Ambulance (SCAA), The Control Tower, Perth Airport, Scone, PH2 6PL