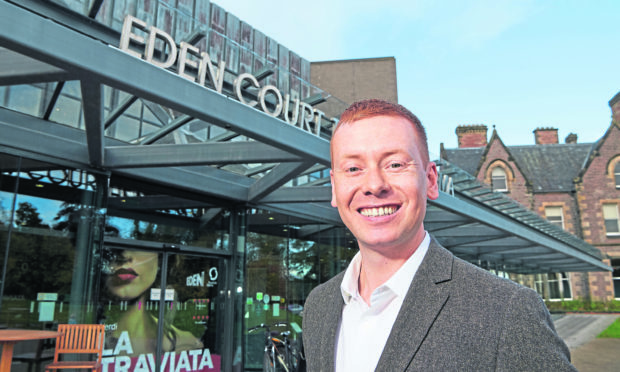 A multi-million pound Covid-19 recovery fund for struggling culture venues in Scotland has been described as a "real shot in the arm" for the sector by industry bosses.
First Minister Nicola Sturgeon has announced a targeted £15 million support package for theatres, comedy clubs, music venues, nightclubs and galleries.
Culture bosses in the north-east and Highlands have called it "vitally important" for the whole sector.
James Mackenzie-Blackman, chief executive for Eden Court theatre in Inverness, said: "It is so important that the wider culture sector gets the support it needs.
"This kind of funding is going to be essential to ensuring our venues remain solvent and a going concern.
"Within the context of north of Scotland, organisations like Eden Court and Aberdeen Performing Arts, neither of us are out of the wood yet and the big unknown is what is going to happen for us in 2021 and quite how ready audiences are to return to venues."
Ms Sturgeon announced a full package of £59 million to support for the culture and heritage sectors.
It is understood it will be funded by £97 million given to the Scottish Government through the Barnett formula, based on spending by the UK Government.
The key measure is the £15 million recovery fund for venues, the First Minister said, to "safeguard key parts of our cultural infrastructure".
She added: "The culture and heritage sectors are, of course, hugely important to our economy, but they're also really important to our wellbeing and happiness as a country.
"They've been very hard hit by this pandemic and we're determined to do everything we reasonably can to support them."
Funding will also be made available for Historic Environment Scotland, as well as support for freelancers, the development of new creative work, independent cinemas are youth arts.
JP McGivney, who is leading the "save our scene" crowd-funder campaign online on behalf of Unit 51, Bridge Street Social Club and Underground Klub in Aberdeen, described the funding as "the difference between the nightclub sector surviving and not surviving".
He added: "In cities big and small, in order to keep the dance floors open, you need to either open them up or help them, so it is critical that we receive this money.
"What's the point in going through all this with Covid-19 if you're not able to enjoy yourself at the end of it?"
Steven Robertson, programmer for Hootenanny Inverness, called the relief fund a "much needed, much welcomed and a real shot in the arm" for the industry.
He added: "Like a lot of businesses it's been a struggle to remain operational and sustainable during this crisis."
Naz Hussain, owner of Breakneck Comedy Club in Aberdeen, said: "Anything right now is really helpful to keep our industry alive.
"Our income has gone right down to zero since March, while some businesses have been able to carry on we haven't been able to do anything and we'll probably be one of the last to get to open."
The Belmont Filmhouse in Aberdeen was forced to launch a survival campaign in June, with the aim of raising £25,000.
The venue, which hopes to be back open again in two weeks, asked members of the public to donate £40 – the price of a membership – to the cinema to help it get back on its feet.
Managing director Colin Farquhar said the furlough scheme really helped his business survive over this "pretty hairy period".
He added: "There were periods where it felt like it was going to be pretty close for us whether we made it or not – and it still might be.
"The concern for us is always that arthouse cinemas get forgotten about and often slip between the cracks.
"We know it's going to be tough trading for the first couple of months, if not longer, so anything helps us get us out of this.
"The devil will be in the detail, but more funding is always helpful."