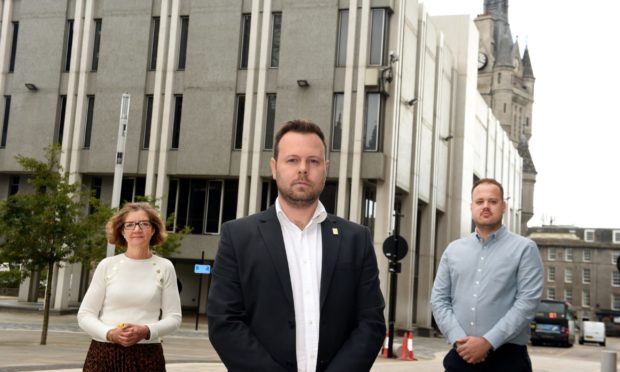 A leaked legal briefing from Aberdeen City Council's top solicitor has prompted First Minister Nicola Sturgeon to urge all local authorities to heed work from home advice.
The authority's chief governance officer Fraser Bell told members Tuesday's rules revision had brought "no change" to working arrangements for members and staff.
Councillors and select officers have been attending in-person meetings at the Town House in the city's Broad Street since the start of the month.
The move is in contrast with neighbouring local authorities in Aberdeenshire, Moray and Highland, where leaders plan to continue virtual meetings in the coming months.
Announcing stricter rules as coronavirus case numbers rise, Ms Sturgeon on Tuesday pleaded with employers to "rethink" having workers back in the office, if they could otherwise work from home.
SNP councillors Audrey Nicoll, Ciaran McRae and Alex McLellan, who sit on the capital programme committee, expressed their concern ahead of a meeting yesterday at the Town House.
Members questioned committee convener Marie Boulton on a potential return to virtual meetings.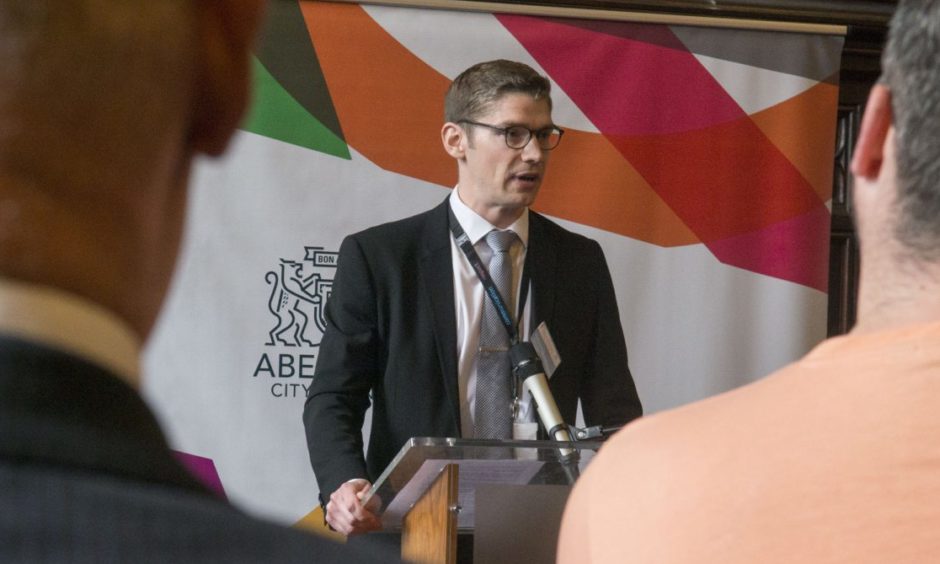 But chief governance officer Fraser Bell told members: "The first minister reiterated existing guidance on work from home.
"New guidance published states: 'We continue to urge all employers to support staff to work from home wherever possible.
"We ask employers to take particular account of those who were shielding.'
"So, from my perspective, no change to previous position."
Mrs Boulton ruled to push ahead with yesterday's Town House meeting, in line with the plan agreed at a meeting of group leaders in June.
That vote brought to an end months of a very limited number of committee meetings being held over video conferencing, with a full diary scheduled after schools went back last month.
Staff and councillors are able to remotely dial in to the Town House meetings but many staff and members have been attending.
The arrangement is similar to those at Holyrood and Westminster, where reduced numbers of parliamentarians attend and welcome input from members at home.
Pressed to explain why yesterday's council meeting went ahead in the flesh at all, Mrs Boulton said: "I spoke to Mr Bell yesterday and asked if there had been any significant changes I needed to be aware of in terms of changing the meeting to a remote meeting.
"And I was advised that there was nothing that I may need to consider so that's why the meeting is being held in the chamber.
"Obviously anyone who wishes to access the meeting remotely could have asked."
An hour before the meeting started, The P&J took councillor concerns directly to the first minister at her daily coronavirus briefing.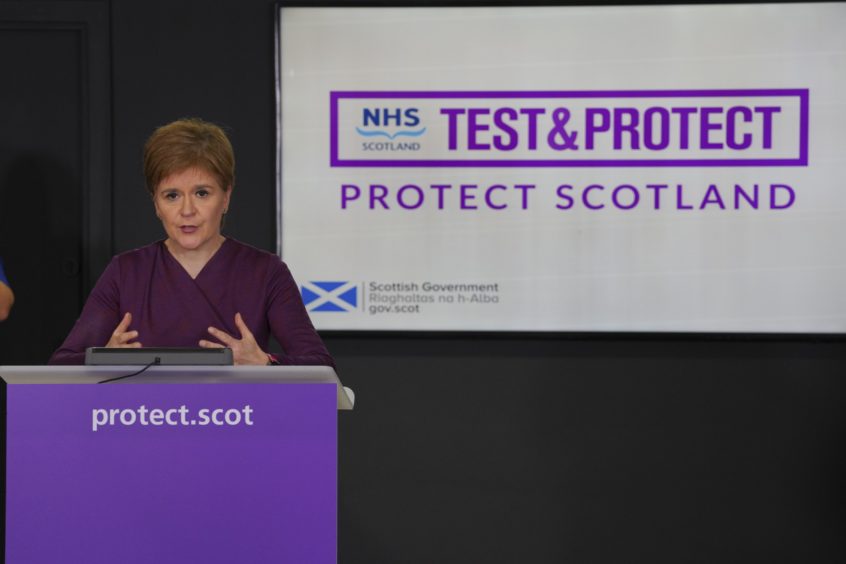 Ms Sturgeon said: "I'm not going to comment because I don't know what arrangements Aberdeen City Council is putting in place.
"What I would say is all employers have to decide what is essential for people to be at work and, other than that, allow people to work from home.
"The Scottish Parliament is sitting in-person on occasion, more regularly now than it was earlier in the pandemic.
"But not everyone can attend at once and there's physical distancing and some people are joining remotely.
She added: "In a democratic parliament, there is good reason it needs to be sitting for accountability and scrutiny. The same is undoubtedly true of councils.
"But within that, we need to make it as possible for people to work from home as we can.
"I would encourage all councils to take very seriously the advice about people working from home because it is an important way to reduce the transmission risk we face."
Councils across the country heard Ms Sturgeon's advice differently.
Dumfries And Galloway, one of the handful of other local authorities already back to in-person meetings, has confirmed it will launch a review into its arrangements in light of Tuesday's rule tightening.
More than four in five Scottish councils continue to conduct business online, including Aberdeenshire, Moray, Highland, Western Isles, Orkney, Shetland and Argyll And Bute.
A spokesman for West Dumbartonshire Council said it was continuing virtual meetings "in line with the guidance on non-essential workplaces".
Another, from East Renfrewshire, said after the "reinforcement" of the work from home message on Tuesday "I don't see meetings changing any time soon".
Those sentiments were shared with opposition councillors in Aberdeen, as SNP group leader Alex Nicoll said: "Given the clear message from the first minister to work from home where possible, I simply cannot believe the ruling administration is continuing to hold meetings in-person.
"It is clear they are more interested in defying the Scottish Government than they are showing strong leadership and setting an example for the rest of the city."
Meanwhile, Liberal Democrat council group leader Ian Yuill branded it "stupid and foolhardy".
"It is perfectly feasible for meetings to be held online," he said.
"I can't for the life of me understand why some committee conveners are refusing to hold them virtually.
"It is unnecessary, no matter how careful and well-prepared the planning is.
"Any in-person meeting involves a level of risk of transmissions and ultimately puts lives at risk."
Last night a council spokeswoman said: "The council has recently been meeting in-person and some elected members and officers have attended remotely.
"This is consistent with the practice of the UK and Scottish Parliaments.
"The council will continue to keep any developing guidance under review and adjust arrangements as required."