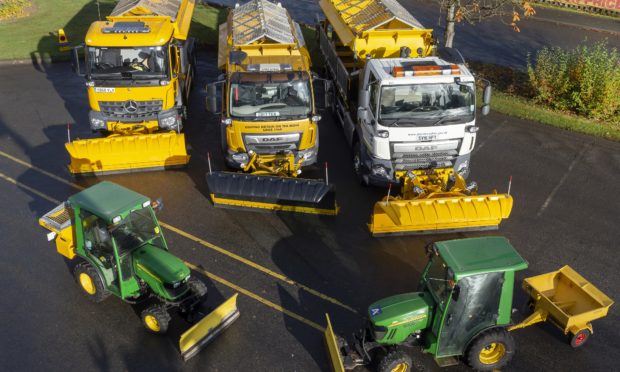 Aberdeenshire Council is putting its winter operations into motion to ensure it can respond to poor weather across the region.
It has already taken delivery of 25,000 tonnes of salt to treat north-east routes and readied its fleet of 54 gritters, support vehicles and about 300 dedicated roads and landscape staff.
But residents are being asked to play a greater role than ever in keeping their own streets and communities moving as Covid-19 could have an impact on staffing resources.
Typically, the local authority will use about 45,000 tonnes of salt annually to ensure the region's 3,424-mile road network – and around 1,000 miles of footways – remains safe for all users.
It also contracts out around 120 local farmers who will help clear snow from minor rural roads wherever necessary.
All roads are categorised into appropriate priority levels, with the primary network being made up of 32 different routes covering 1,081 miles.
Mostly 'A' and 'B' class roads, it also includes a number of busy commuter routes which keep Aberdeenshire's main towns and villages connected.
The focus will be on keeping priority one roads passable at all times, unless weather conditions are particularly severe, meaning they will always be gritted before any others.
The council also treats footpaths and cycle routes and will prioritise those in busy urban areas – and those near shops, businesses and medical and community facilities in particular.
About 1,750 grit bins are also located across Aberdeenshire to enable residents to self-treat nearby roads and footways.
A council spokesman said: "The scale of the task across Aberdeenshire Council is enormous, and our teams cannot be everywhere at once.
"Of course, this year the local authority is facing the added challenge of Covid-19 and the impact that has on staffing resources across its services.
"As with all sectors of society, there is the risk that an upturn in cases could result in a reduction in the availability of the right people, with the right skills, as they may be asked to self-isolate.
"In any year, the role of local communities in increasing local winter resilience cannot be overestimated and we value their commitment and support of our existing snow wardens.
"This winter is no exception and indeed we would encourage individuals and groups to get involved to assist in what are uncertain times."