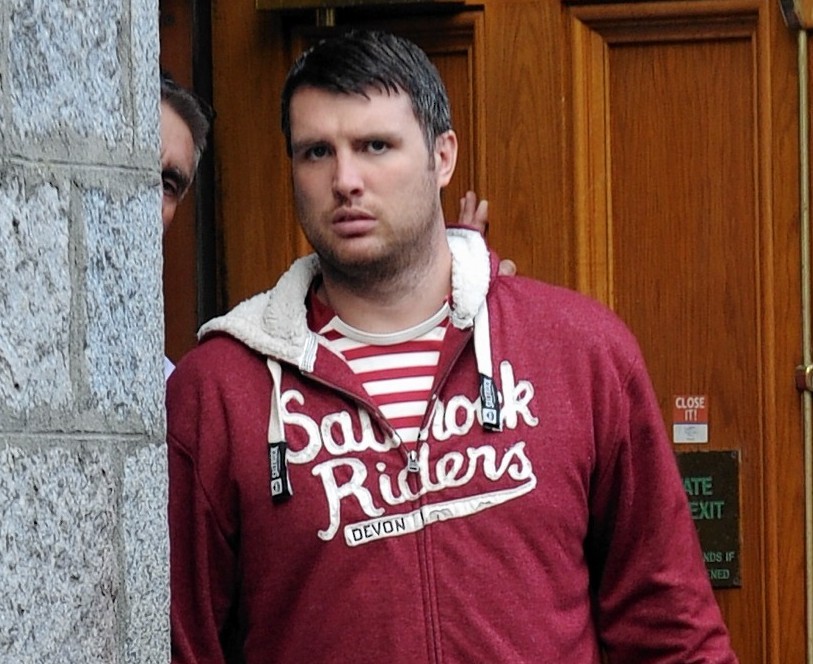 An airman has been fined thousands of pounds after he throttled his girlfriend in her sleep.
Jamie Jones appeared from custody at Aberdeen Sheriff Court yesterday and admitted attacking his partner on Saturday at her home in the Bridge of Don area.
The court heard the 29-year-old and his girlfriend had been out drinking in Aberdeen city centre earlier that evening when they started arguing.
When they got home the woman went to bed and fell asleep.
Fiscal depute Karen Dow said she later awoke to find Jones pulling her up by her pyjamas and putting her into a seating position, before he placed his hands around her neck and squeezed down tightly.
Ms Dow said his grip was so tight it restricted her breathing.
The court heard the next thing the woman remembered was being in the living room of her home and trying to get up to let herself out of the building.
However, Jones refused to let her leave and approached her from behind, wrapping his arm round her neck again before compressing.
He then loosened his grip, but placed his hand over her mouth telling her to "stop being so childish" and to "calm down".
The court heard Jones' victim was struggling to breathe and asked him repeatedly to leave her home.
When he eventually did go, the woman called the police, who later traced him in Dundee.
Sentencing Jones, of Spitfire Block, Odinham, Hampshire, Sheriff Annella Cowan said the offence was so serious that her only options were a "hefty fine" or a prison sentence.
She said: "The narrative to this charge and what you did makes it extremely serious. While I have been listening to all this the only two sentences occurring to me are a prison sentence or a hefty fine.
"It would have been £3,000 but given your early plea I will reduce it to £2,500".