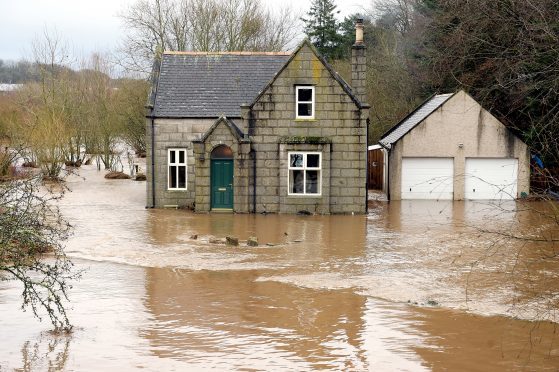 An Aberdeenshire woman has slammed thieves who stole equipment being used to produce sandbags for a flood-hit village.
Helen Tawse was part of a team of eight Methlick residents filling up the vital flood defences last Thursday night at her husband's company, Tawse Brothers.
However, the shovels they were using to fill up the sandbags – which were being distributed to people in the village's Blackcraig area affected by flooding – have been stolen.
The rivers Don and Ythan burst their banks last Thursday night, causing hundreds to be evacuated from their homes and damaged a number of houses.
It happened just a week after Storm Frank brought chaos to the region, wreaking havoc on Deeside communities.
Four of the shovels being used were taken from the site at the weekend.
Mrs Tawse said: "On the night of the floods in Methlick a crew of us went down to the back of the yard and were filling sandbags until 10pm or 11pm.
"The shovels left in the sandpits have been stolen. We were out helping folk and someone came along and pinched them.
"You go out and help folk and it is just awful for someone to just take them. We were all working to help the neighbours and there is nobody that could have gotten in and out of Methlick because of the roads. They were all flooded."
She added: "We were making them to help people over in Blackcraig – the houses there are flooded.
"I hope whoever has done it has a conscious. We were just trying to help."