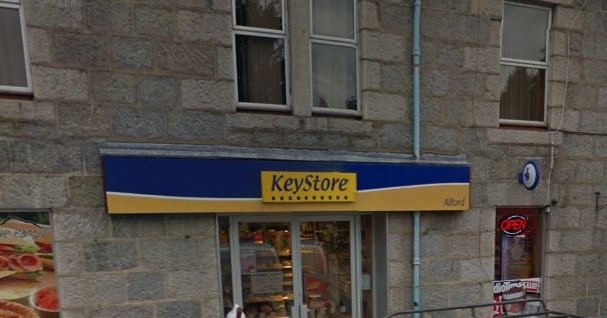 Police are appealing for information following a break-in and theft from the Key Store at Alford's Main Street in the early hours of Monday morning (April 4.)
A high four-figure sum of money and a quantity of cigarettes were taken during the incident, which happened at around 5.05am.
It is understood a vehicle seen in the area and believed to have been used in the crime, a blue Audi A6, could have been stolen earlier from an address in the Cults area.
Inspector Jamie Harrison said: "I would appeal for anyone who was in the Alford area at the time and saw or heard anything suspicious to contact the force as a matter of urgency.
"Three men wearing black hoodies were seen in the vicinity of the Key Store at the time in question and, in particular, I would urge anyone who has information about the location of the blue Audi motor car linked to the crime to report it to Police immediately."
In addition there were also thefts in the Dyce area through Sunday night into Monday morning where a quad bike was stolen, garages were entered in Drumoak, and at Arnhall Drive, Westhill, property was stolen from an insecure vehicle and a garage was entered.
Inspector Harrison added: "We are really fortunate to live in an area of low crime, which makes it more disturbing when we become victims of crime. I would request that homeowners remain vigilant and ensure their properties are secure, and would also like to remind everyone that by taking some simple and basic precautions they can greatly reduce their risk of being targeted.
"Remember to lock your homes, garages and outbuildings and ensure your property is well lit. Please lock your vehicle and keep the keys secure within your home, remove any valuable items from within your vehicles and ensure no other items are left in view.
"More and more residents are finding that the purchase and use of CCTV is not such an expensive option as they first thought. Other security items such as driveway alarms can be bought and installed relatively inexpensively.
"I would urge anyone with information about the above incidents, or who sees any person or vehicle acting suspiciously, to please contact Police on 101, or 999 if it is an emergency. To remain anonymous telephone Crimestoppers on 0800 555 111."