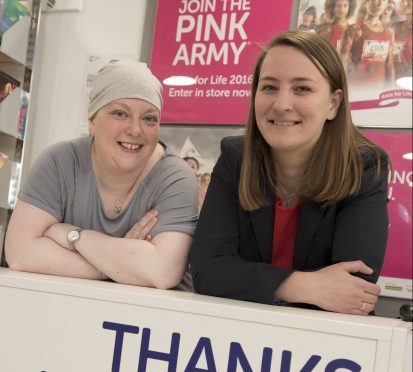 A cancer patient has joined charity supporters to cut the ribbon on a new shop in Aberdeenshire to help raise funds for cancer research.
Since being diagnosed with breast cancer, Anne MacLennan knows first-hand the vital role that charities play in helping cure cancer.
And last Thursday she welcomed shoppers into the new Cancer Research UK store in Inverurie.
The 43-year-old was diagnosed with breast cancer just four days before Christmas and was guest of honour at the Inverurie shop's grand opening.
Mrs MacLennan is also the manager of the Cancer Research UK shop in Rosemount, Aberdeen.
She said: "As a manager at a Cancer Research UK shop, my focus was always on helping other people.
"I know that it's thanks to the support of our customers that Cancer Research UK scientists are able to do their life saving research.
"Of course, I never thought it would be me that would need the benefit of that research."
Mrs MacLennan, who lives in Aberdeen but is originally from Turriff visited her GP when she found a lump on her breast.
Her GP then made a referral to Aberdeen Royal Infirmary where her cancer was diagnosed.
She said: "Even though I found a lump, I still held out hope that it wasn't cancer and so it was still a bit of a shock to receive the bad news.
"It's so important if you have cancer that you begin treatment quickly and I am so glad I went to the doctor immediately. The doctors are telling me they are pleased with my progress and I feel very positive."
Mrs MacLennan, who has been married to Gregor for 14 years and has a 21-year-old step son Ryan, added that the support of her friends, family and colleagues has been invaluable since her diagnosis.
She said: "Their help, kind words and good humour have been fantastic and have been helping me to get through this."
Inverurie Cancer Research UK shop manager, Anne Magarin, said: "We are so thrilled to be throwing open the doors on our beautiful shop and welcoming customers from Inverurie and throughout the north-east.
"The shop has also already received some wonderful donations and we hope to attract many more.
"The support we have had from local people so far has been tremendous and we hope that more people will be tempted to pop in and see what gems they can find."
Michelle Maclaine, Cancer Research UK area manager for the North of Scotland, said: "We are pleased to be opening a premium shop in this vibrant and thriving area.
"We know shoppers want the chance to pick up good quality items and more and more people are realising the benefits of choosing charity shops to do this.
"It is therefore important our standards continue to reflect those of the high-street to ensure we can raise as much money as possible to beat cancer sooner."