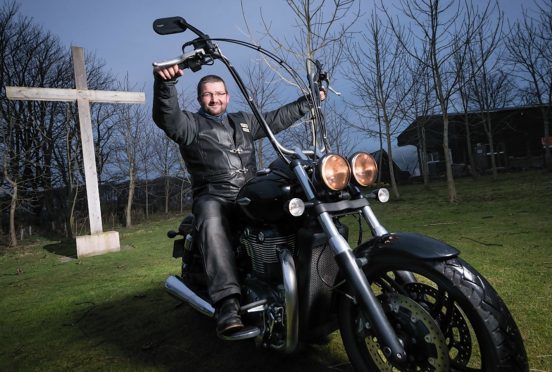 A Fraserburgh biker is gathering impressive support for his effort to raise vital funds for a north-east charity.
Gordon Cruden is raising money for the addiction recovery charity Teen Challenge, which hopes to be able to purchase a permanent base for women and their families near Mintlaw.
Mr Cruden, who is the charity's area manager, has already helped raise half of its £535,000 target by completing a motorbike journey through Europe and living rough in UK cities last year.
Now, however, he will travel to the US and begin an audacious attempt to visit 50 states in just 30 days, clocking up 15,000 miles on his way.
A host of stateside businesses and organisations are already rallying behind the campaign.
Perry Harley-Davidson – a Michigan dealership for the motorcycle brand – has planned a launch party for Mr Cruden when he starts the challenge in Portage on June 18.
He will also be helped by Texas' Church Project, where his own bike will be serviced.
And New York's Highlander Hardwood Floors has provided the challenge with an electronic pass to tollbooths along the way, allowing Mr Cruden to travel between the north-east states freely.
Last night, he said he was "blown away" by the support.
"This wave of support is now spreading to the US with a number of individuals, businesses and organisations rallying behind the cause with fantastic donations and contributions, which is hugely encouraging," he said.
"I think the reason for the support is very simple. The thought of children being put into care while their mothers try to overcome their addictions – which usually happens when mothers enter a residential addiction recovery centre – is heart-breaking.
"At Benaiah, however, we can take kids in, allowing them to continue living with their mothers while the mums work on turning their lives around and making great futures for them and their children."
As well as Benaiah, Teen Challenge North East Scotland also operates a men's residential centre, Sunnybrae, near Fyvie.
At both centres, residents undertake the faith-based Teen Challenge programme.
After completing the programme, graduates continue to receive support from the charity in establishing homes, career and further education opportunities, social networking and finance management.