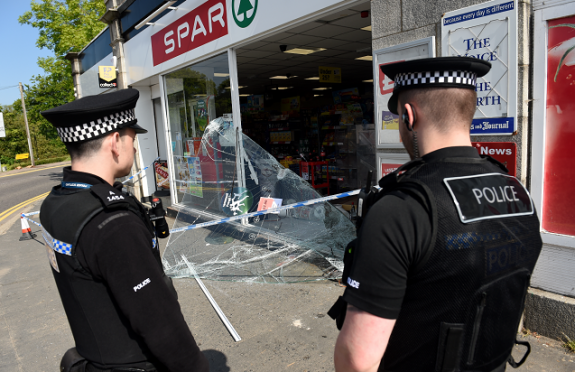 An Aberdeenshire couple's brand new Audi was stolen from outside their house and used in ram raid nearly 20 miles away in the city.
Elaine Rooney feared her offshore worker husband had been in an accident when police arrived at her door at 3am yesterday – completely unaware her black Audi Q5 had been stolen.
Thieves swiped the car from Inverurie and used it to break through the window at the Spar on North Deeside Drive before making off with thousands of pounds.
Mrs Rooney last night admitted she had feared the worst when officers arrived at her home in Ury Meadows.
She said: "The police woke me up at 3am when they came to the house, and that is just your worst nightmare.
"My husband works offshore and my daughter is also away so I immediately thought there had been an accident – I was terrified.
"When they told me about the car of course I was angry and upset, but after initially thinking the worst, the car is materialistic and can be replaced."
It is understood the thieves tried to get into a number of cars in Mrs Rooney's cul-de-sac before making off with the Audi – which she has only had for a month.
It is unclear how they managed to get away with the car, but no houses were broken into during the incident.
"I can't believe what has happened," she said. "It's just crazy and I am truly shocked that it has happened on such a safe street – I have lived here for 12 years and nothing like this has ever happened.
"We only got the car about four weeks ago too which is frustrating, but luckily it was insured."
The culprits – believed to be two men – drove the car nearly 20 miles to Spar, before breaking a large window and fleeing with cash.
The incident happened at about 2.15am, and police immediately cordoned off the store to carry out their investigations.
Forensic teams could be seen working at the scene from about 9am.
Detective Constable Emma Low said: "At this stage of the investigation, we are concentrating on the collection and viewing of CCTV footage, conducting house to house inquiries and forensic examinations are being undertaken.
"I would remind owners of vehicles to make sure they keep their vehicles locked when not being used and that they remove all valuable items and where supplied by the manufacturer, they remove any emergency keys supplied with their vehicles."
Police also returned to Ury Meadows yesterday to speak to Mrs Rooney's neighbours, seeking information – but also warning them to keep their cars secure.
One neighbour, Eric Steel, said: "It's quite worrying that this has happened right next door and on such a nice street.
"It's also a concern that they tried a number of cars on the road before stealing Elaine's – my wife's car was parked right next to hers.
"I feel bad for Elaine it's an awful thing to wake up to."
Inverurie councillor Bryan Stuart said: "It is worrying but I think the best thing to do is make sure folk keep their vehicles secure and their keys are put away safely."
Councillor Marie Boulton, who represents Lower Deeside, said: "Peterculter is a very safe area and this is a very unfortunate incident.
"The main thing is that no one was hurt during the incident and hopefully the police will be able to apprehend those responsible before anymore damage is caused."
Anyone with information should call 101 or Crimestoppers on 0800 555 111.