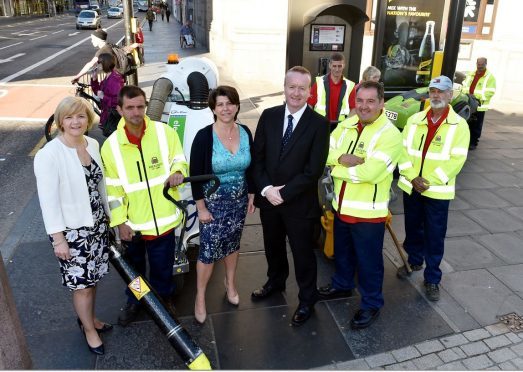 More than 250,000 pieces of chewing gum have been removed from Aberdeen's iconic Union Street as part of the council's cleaning blitz.
Earlier this month, the local authority launched their £1million Operation Union Street Rejuvenation, which aims to bring the shine back to the Granite Mile.
Led by a "hit squad" of four, the ambitious works involve a general power wash of all pavements, doorways and street furniture – signs, bollards and benches – as well as the removal of chewing gum.
Council officers have also contacted the owners properties on Union Street appealing to them to support efforts and back a potential sandblasting of the buildings akin to the work carried out on Marischal College.
Now around 250,000 pieces of chewing gum have been removed.
The work is part of the first phase of a major regeneration programme being brought forward under the 25-year city centre masterplan.
Deputy council leader Marie Boulton, who chairs the cross-party city centre regeneration board, said: "Operation Union Street rejuvenation was launched only a few weeks ago but Union Street is already starting to look better and brighter.
"The effort of our own cleaning staff and the specialist team has revealed to people just how magnificent our city centre can be. We had planned to carry out the deep clean annually but may look at increasing the frequency given the success.
"The hope is that people will eventually start to take a greater pride in their environment – and not be so ready to discard gum or litter in future."
The project – scheduled until next spring – is being led by the council and Aberdeen Inspired, the operator of the Business Improvement District.
Adrian Watson, chief executive of Aberdeen Inspired, said that members had highlighted discarded chewing gum as a major blight on the city centre.
He said: "To combat this we purchased a new chewing gum removal machine, which is now available for use to aid city centre businesses in their quest to keep their shop fronts clean.
"We're encouraging people to take responsibility for their own patch. We are firm believers that small changes can come together to make a big difference and we're keen to work with others to help do this."