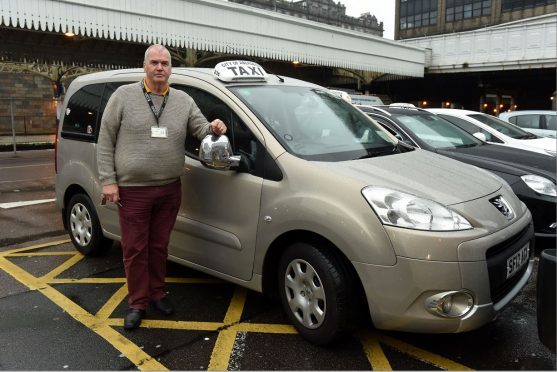 An angry Aberdeen taxi driver spent thousands of pounds on a wheelchair accessible cab – but can't help disabled people into the vehicle because he suffers from multiple disabilities himself.
Colin Adam, 56, had to buy an accessible car when he returned to the trade from an eight-year break in 2012 due to the council's controversial new policy.
Many Granite City drivers have reacted with fury to the news the local authority will push ahead with making all Aberdeen taxis wheelchair-accessible by June 2018.
Council to push ahead with fully accesible fleet… But some drivers think plans will hit hard-pressed cabbies
That principle was originally established in 1994, with the council long arguing iunder a legal obligation.
But a report to the licensing committee next week says that council officers have now consulted with the UK government who have indicated there are "no mandatory rules" on the issue.
Mr Adam, who suffers from arthritis and has had hip and knee replacement operations, was forced to buy the accessible taxi but is exempt from "carrying or assisting" passengers who use wheelchairs.
He said: "I got back into driving a taxi in 2012 because of my health problems.
"But even though I can't take wheelchair passengers, they made me get an accessible car.
"If I had the choice, I'd have gone for something like a saloon, I bought my car with 20,000 miles on the clock for £13,500 – you can get saloons for £11,000 brand new.
"The council always talk about going green, and I'd love to get a hybrid, but they don't do wheelchair accessible ones. They just aren't listening to drivers.
"It's nothing to do with politics, the council are scared in case they get sued by any of the guys who have already paid for the new cars."
Dundee also operates a mixed-fleet system while Edinburgh and Glasgow have traditionally used black cabs, which are wheelchair-accessible.
A report to be presented to councillors next Tuesday reads: "The committee first indicated its intention to move to a 100% accessible vehicle fleet in 1994.
"From that date onwards, any applicant for a taxi licence must present an accessible vehicle.
"If the Committee amends its policy, it may face a challenge from licence holders who have taken steps in anticipation of the implementation date of June 6, 2018 to purchase or lease an accessible vehicle which could include claims for compensation."