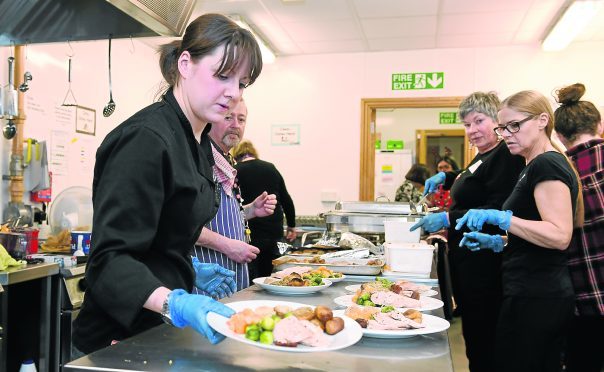 Vulnerable and elderly people from across Aberdeen have been treated to Christmas dinner by kind-hearted volunteers.
The city's Salvation Army yesterday hosted a meal for 65 people at its Citadel on Castle Street.
A three-course meal was laid on for the guests with lentil soup, turkey and all the trimmings and puddings, following by mince pies and shortbread.
Commanding officer Helen Froud said: "It was a lovely atmosphere. Some of the people who went have additional needs, so they see each other often and meet at day centres, but a lot of them didn't know each other.
"But they all had the chance to sit with each other and make everyone feel welcome and at home.
"We had a really good time – we sang some Christmas carols in the middle, and a volunteer pianist played some Christmas tunes throughout."
Preparation for the day began at 7am, with chef Jade Hughes toiling throughout the morning to prepare the feast with ingredients donated by food bank partnership CFINE.
She had help from 25 volunteers who also were giving up their time to make a difference for others.
Lieutenant Helen added: "Quite a lot of volunteers help us then come home to their own Christmas dinner but they are welcome to have it with us – we make sure we cook enough.
"We had a young woman come last year with her uncle, but this year he was offshore so she dragged her dad along instead.
"There were two sets of mums and daughters as well.
"That really positive community example of volunteering is not just going into the next generation, but in this case it was the daughter who started it."
This Christmas the Press and Journal launched a campaign to help tackle isolation among senior citizens across the north and north-east of Scotland.
Share the Cheer has also been backed by musical icon Susan Boyle, who said: "There is nothing worse than loneliness and to be able to give someone even a small part of your time is precious."
The sentiments were also echoed by the UK's political leaders.
Prime Minister Theresa May encouraged everyone to "come together" united, while Labour leader Jeremy Corbyn urged people to think about those "cut off and lonely" this festive period.
Comment, Page 21