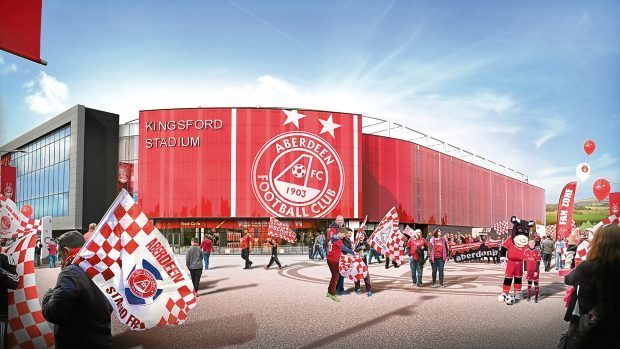 Aberdeenshire Council has renewed its objection to a proposed multimillion pound new stadium for Aberdeen FC.
The Dons have been trying to win support for their £50million stadium and training facility plans for land between Kingswells and Westhill ahead of a crunch pre-determination hearing on Wednesday.
Councillors will be given an opportunity to dicuss additional information submitted by the football club at the second hearing.
A final decision will be made at a meeting on January 29.
Aberdeenshire Council said it was "not satisfied" with a new footbridge proposed by the club in its response to the latest public consultation.
A letter to the city council from Aberdeenshire's infrastructure director Stephen Archer also claimed that "major assumptions" had been made by the club regarding the economic case for the facilities.
The letter concludes: "Aberdeenshire Council said it accepted work had been done to justify why Kingsford was the preferred site, but it was maintaining its objection."
Additional information submitted by the club argued that there was no other suitable location for the new facility and that the stadium was needed to keep the Dons playing a top level of football.
And last night the man leading the Kingsford project said several objections had been lifted since the club provided new information.
However, campaigners against the development have cited concerns over the loss of greenbelt land and increased traffic in the area.
It is is unlikely to be the end of the saga no matter which way the decision goes – with legal appeals expected.
Raymond Edgar, project director for Kingsford, said: "We are very pleased that several of the previous objections have now been lifted and indeed Aberdeen City Council's roads and economic development departments are now satisfied with our recent submissions. Aberdeenshire Council, Kingswells and Westhill Community Councils have maintained their objections.
"The main objections remain around loss of greenbelt and traffic and transportation. We believe our economic case demonstrates that the benefits to both the local communities and the region's economy by far outweigh the need to maintain greenbelt status for the previous landfill site at Kingsford.
"As a region we need to deliver progress at pace, we must build on the momentum that has been building recently following one of the longest downturns in our local economy."