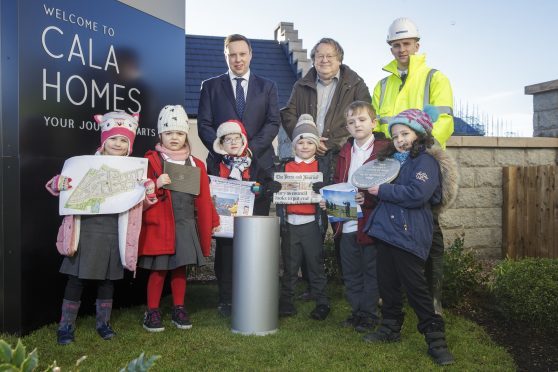 Youngsters have buried a time capsule to show future generations what life in the Bridge of Don was like in 2018.
A selection of pupils from Braehead Primary filled it with maps and photos of the area – and even a copy of that day's Press and Journal.
They also included a series of videos they made on a USB stick, all centred around why they like living there.
With some of their fellow pupils from primary two looking on, the group interred the sealed capsule amid the new houses in CALA's Grandhome development to mark its first residents moving in next month.
It is hoped a new generation of youngsters will dig it back up in 50 years' time, giving them a unique look at life today.
Lesley Gardner, acting head teacher at Braehead Primary School, said: "All our pupils had great fun making videos for CALA's time capsule and six of our primary two pupils were over the moon to have the chance to see it being buried."
The capsule was initially scheduled to be buried at the tail end of last year, but the ceremony had to be delayed due to harsh weather conditions and frozen ground.
Fraser Carr from CALA added: "We were very impressed by the videos the school's pupils created.
"They provide a different perspective on Bridge of Don and it was fascinating to see what children in the area value most.
"The video produced by the primary two class included photos of pupils enjoying local parks and days at the beach.
"Each pupil also did a presentation looking at a different aspect of Bridge of Don such as their favourite shops, restaurants and kids clubs."
Bruce Smith, chairman of The Grandhome Trust, added: "The time capsule is a great way to mark the occasion and will show the community's future generations how Grandhome was originally created."