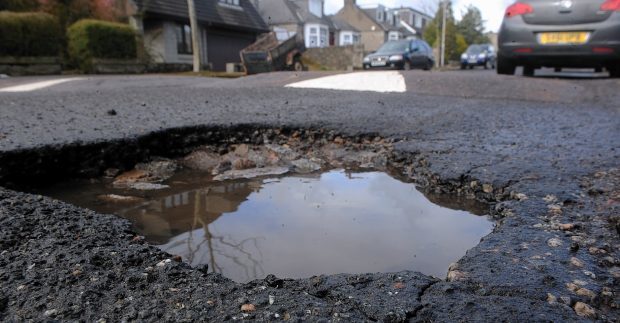 Aberdeen City Council has not paid out a single penny in compensation to motorists who claim their cars have been damaged by potholes – while neighbouring Aberdeenshire Council spent £50,000.
Exclusive new figures show the city council rejected all 310 claims for damages it has received from members of the public since April 2014.
However, over the same period, Aberdeenshire Council has settled 146 cases worth almost £50,000 and while Moray Council paid out £137.50 for two upheld complaints.
The disparity has led to calls for a more cohesive system for claiming money.
Drivers flood Highland Council with compensation claims over pothole damage to cars
Neil Greig, policy director at charity IAMRoadSmart, said he "simply cannot believe" the difference in costs.
"While we do believe that money spent on compensation is money that could have been better spent on road repairs, we also think drivers are entitled to fair recompense for council failures," he added.
"Councils need to adopt a more customer friendly approach to claims."
Since April 2014, Aberdeenshire Council has received 615 claims from disgruntled motorists.
Of these, 146 have been settled for a total of £48,852.11 – 355 times higher than the total cost to Moray Council, which settled two out of its 116 claims.
It paid £112.50 after a driver hit a pothole near Blervie Castle, and £25 for damage caused by loose chippings on the B9135 near Lossiemouth.
The most recent figures available for Highland Council show that it received 220 claims during the year to September 2017. It settled 92 of these for a combined £20,958.
The number of repairs required for cars damaged by potholes has soared in recent weeks, with some garages reporting increases of as much as 400%.
Some of the most notorious potholes behind these have included one described as "the size of a bathtub" on the A832 near Muir of Ord.
John Massie, the owner of Rimtech in Inverness, said he experienced a "massive influx" in customers.
Meanwhile the manager of Coull Cars in Portlethen, Charlie Taylor, said: "There has certainly been an increase in the number of broken springs and damaged wheels in the last few months."
Head of roads at Aberdeenshire Council, Philip McKay, said: "It is fact that potholes can appear at any time on any standard of road.
"All of Aberdeenshire's roads are inspected on a regular basis in line with national standards, but potholes do appear between inspections."
He added: "The authority's independent insurance representatives deal with all pothole related insurance claims and each case is dealt with on an individual basis.
"However, claims are unlikely to be successful if clear evidence of a road defect is not subsequently identified, or if the council was not aware of the defect prior to the incident."
Recent figures revealed that Aberdeen City Council spends £27,198 per mile on road repairs, more than four times the Scottish average of £6,483.
Last night, the adminstration's transport spokesman, Ross Grant, said: "There can be no doubt that some of Aberdeen's roads are in need of repair with potholes springing up due in part to the cold weather, that is why we have committed an extra £10million into road and pavement improvements.
"At a time when many other councils are reducing their roads maintenance budgets, Aberdeen City Council spends more than four times the Scottish average on maintaining the condition of our roads. It is so important to highlight to the residents of Aberdeen that we invest twice as much as Edinburgh, Glasgow and Dundee on maintaining our roads and five times what Aberdeenshire, Moray, and Angus spend on maintaining their roads."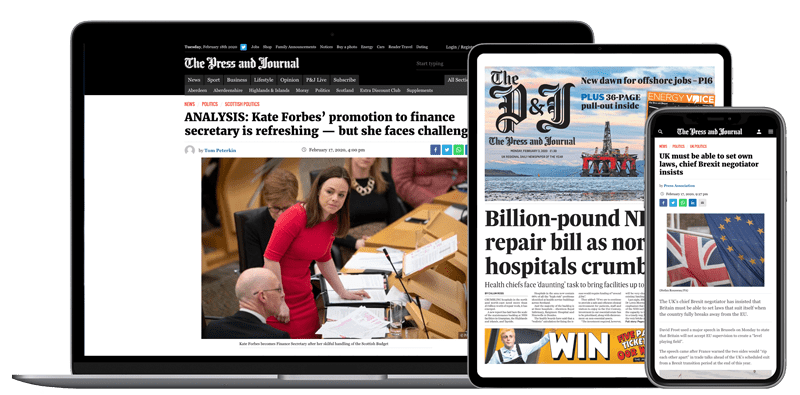 Help support quality local journalism … become a digital subscriber to The Press and Journal
For as little as £5.99 a month you can access all of our content, including Premium articles.
Subscribe