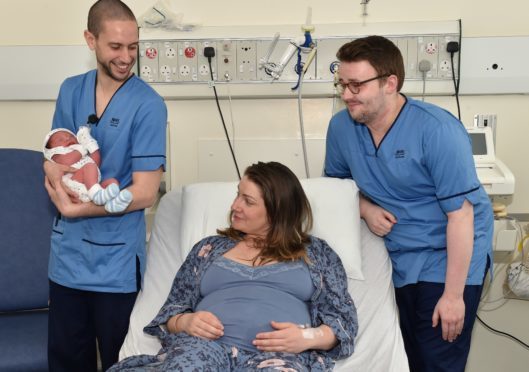 Male midwives at the north-east's flagship hospital have encouraged fellow men to join the profession.
Ahead of International Day of the Midwife on Saturday, NHS Grampian highlighted that midwifery "is a career open to anyone".
Iain Macaulay and Miguel Angel Del Fresno are both based in the labour ward at Aberdeen Maternity Hospital.
Mr Macaulay trained at Robert Gordon University and joined NHS Grampian in January.
His colleague was recruited in December, after completing his midwifery degree at Semmelweis University in Budapest. Prior to that he had qualified as a nurse in his home country of Spain.
Around 99.6% of midwives in Britain are female and the job was unavailable to men until 1975.
Mr Macaulay said: "I'm well aware this might seem like an unusual career choice for a man but it is a deeply rewarding job.
"Women are a little surprised when they first meet me but we have the same goal – a smooth labour and the safe delivery of their baby – so any awkwardness soon passes.
"Pregnancy is a unique experience for each woman and their families and we are privileged to be able to share in that"
Mr Del Fresno said prejudice still existed against male midwives.
He added: "During my placements in Budapest it was interesting to see first-hand the prejudices that society still has regarding male midwives. I found out that I was actually the first qualified male midwife in Hungary, a true privilege.
"It gave me energy and motivation to move across to Scotland and start a new career. Across Europe midwifery is still very much a female profession, but empathy and charisma should matter more than gender."
Jane Raitt, interim chief midwife for NHS Grampian, said: "The term midwife derives from an Old English term which literally means 'with the woman' therefore midwives can be male or female.
"When we recruit new members to our team we are looking for people who can uphold the very highest standards of care.
"Iain and Miguel do that and the support they provide has been much praised by our patients. I hope they set an example to other men who are interested in joining our profession."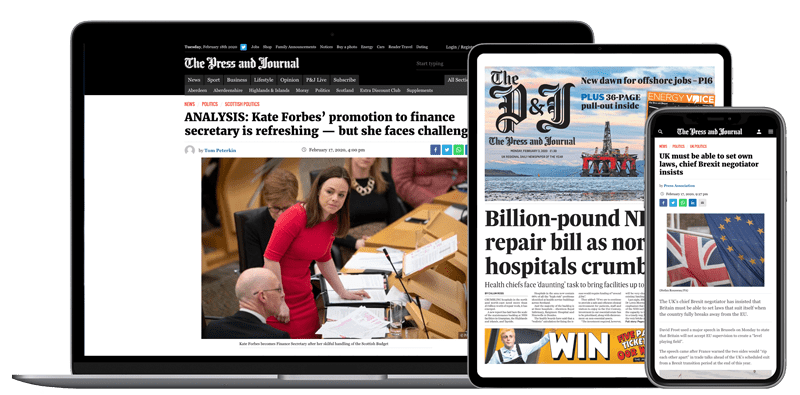 Help support quality local journalism … become a digital subscriber to The Press and Journal
For as little as £5.99 a month you can access all of our content, including Premium articles.
Subscribe