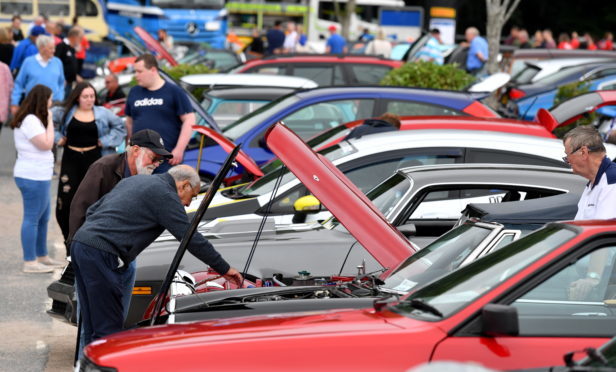 Thousands of motoring enthusiasts enjoyed a trip back in time this weekend as scores of classic cars arrived in the north-east.
Around 350 vehicles were on display at the Thainstone Centre, Inverurie for the second annual Blast From The Past on Saturday.
Visitors were also treated to an official Motor Sports Association autotest competition, live music and a raft of stalls and attractions for people of all ages.
Many classic car owners like to show off their unusual motors but this is something Alan Wallace never understood – until now
The motoring celebration was organised by Alan Wallace, of AW Autotech, and advanced driving observer Alan Leonard, following a successful inaugural event last year.
Mr Leonard said: "It was a fabulous day. We had cars from 1933 through to 2018 and just about every year in between.
"We had classic cars, motorbikes and even the North East Safety Camera Unit.
"It was tremendous to have so many car groups and enthusiasts."
He added: "We wanted to try and take the stodge out of classic car shows with lots to see and do.
"This one was open to everybody.
"Someone might have had a 20-year-old Fiesta that they've put so much work into and we wanted to let everybody show their passion."
The final totals are still being totted up, but the organisers are preparing to donate the entrance fees to four local good causes.
Mr Leonard added: "We have been raising money for the British Heart Foundation, the 4×4 responders Cotag, the NERVs 'blood bikers' and 2 Wit 2 Woo owl and raptor rescue.
"All in all, putting on this event has been quite hard work.
"There have been a few sleepless nights, but it was all worthwhile to make sure so many people got to have a fantastic day."
While he loved many of the vehicles on show, Mr Leonard spoke about one in particular.
He said: "There were some lovely, lovely cars, but my favourite was a blue Ford Consul Classic from 1963 owned by Sandy Morrison.
"It is a simple car, but it brought back so many memories for me.
"I was 10 years old when it came out, so I remember getting into those sorts of cars, like the Anglia or Corsair.
"It was mass-produced at the time, but you don't really see them any more.
"The others on display were beautiful, but didn't bring back any fond memories – and that's what classic cars are about for me."