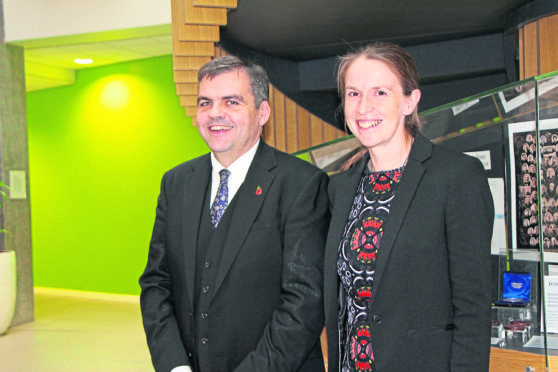 Aberdeen academics will play a key role in a new £15.8million artificial intelligence centre set up to help hospital patients get better treatment and a faster diagnosis.
The Industrial Centre for Artificial Intelligence Research in Digital Diagnostics, which will be known as iCAIRD, will bring together teams of academics from Aberdeen, St Andrews and Edinburgh.
They will work together to harness the powers of new technology using computers to read test results including X-rays and mammogram scans.
Their work will deliver significant benefits for patients through developing quicker stroke treatments, expert chest x-ray reading and a more accurate diagnosis in gynaecological disease and colon cancer.
Test results will still be verified by a human but, as the groundwork for each diagnosis will have already been done, medics will be able to spend more time caring for patients.
The centre will be based at the University of Glasgow's Clinical Innovation Zone at the Queen Elizabeth University Hospital as part of a partnership with other health boards.
NHS Grampian chairman Prof Stephen Logan said: "This will speed up the diagnostic process and probably improve the accuracy, as machines can do routine things very quickly and effectively.
"It's good value for the NHS if we can improve these diagnostic times and the throughput of patients.
"And it improves patient care, which is even more important."
Professor Corri Black from the Aberdeen Centre for Health Data Science said: ""iCAIRD offers huge benefits for patients, clinical staff, researchers and industry, working together to improve patient care."
Health Secretary Jeane Freeman said the launch of the centre was down to the hard work of NHS professionals across Scotland.
She said: "Innovation and technology is an absolutely essential part of our efforts to get quicker and more accurate diagnosis, improved treatment and better outcomes for patients.
"It will complement some of the other ongoing work in Scotland in the field of health technology and life sciences, and I look forward to seeing some of the results and the benefits they will bring to patients."