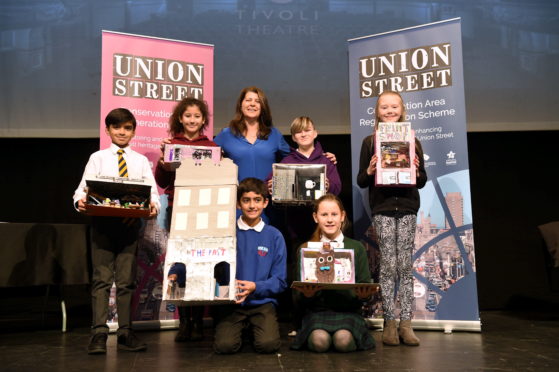 Hundreds of schoolchildren descended on Aberdeen's Tivoli Theatre yesterday to unveil their designs for the perfect shop on the city's iconic Granite Mile.
Nearly 400 youngsters from six primary schools – Albyn, Heathryburn, Kittybrewster, Middleton Park, Robert Gordon's College and Skene Square – were guided by experts from The Scott Sutherland School of Architecture and Built Environment at Robert Gordon University and from the Aberdeen Society of Architects.
The pupils' innovative ideas ranged from a music shop offering on-site tuition to a "Pixel Cafe" – a gaming centre – to an outlet, straight from Roald Dahl's imagination, where customers could create sweets of any flavour.
And the young designers had also considered such aspects as security and lighting in addition to the layout inside the premises.
The project was run as a part of the Union Street Conservation Area Regeneration Scheme (CARS), which is supported by Aberdeen City Council, Historic Environment Scotland and Aberdeen Inspired.
Yusuf Rasool, a primary five pupil at Middleton Park, looked back in time for inspiration.
He said: "The shop is called 'The Past'. It's a history shop, the history of everything. It would be a bit like a museum with a gift shop."
Kittybrewster P6/7 pupil Maria Madrzak helped design a fruit shop to add a splash of colour to the street landscape.
And Tejas Ghosh, a primary six pupil at Robert Gordon's College, was the youngster who devised the "Aberdonian Chocolate Revolution".
He said: "It would be a healthy chocolate store where you could design your own chocolate using pure cocoa beans."
Council culture spokeswoman Marie Boulton said: "Through CARS, the council and its partners are working with owners to conserve our historic buildings and bring them back into use, and hopefully entrepreneurs will be inspired to turn some of these ideas into reality, maybe even the pupils themselves when they're older.
Pupils representing the schools were invited on stage to collect participation certificates on behalf of their colleagues.
A selection of the designs will go on public display at Aberdeen Arts Centre from December 4-9.
CARS is a £2.4million building improvement programme for historic properties on Union Street, jointly funded by Aberdeen City Council and Historic Environment Scotland with further support from Aberdeen Inspired.