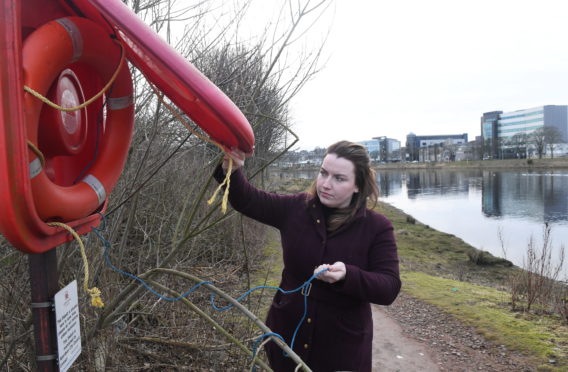 "Stupid, irresponsible and cruel" vandals who cut the rope of a lifebelt and prevented the early rescue of a group of five teenage girls "clearly never thought it could be used to save the life of their own family", a rowing team coach has said.
Coastguard and lifeboat teams were dispatched to the mouth of the River Dee on Saturday after the girls from the Aberdeen Schools Rowing Association (ASRA) capsized and were washed down the River Dee and into the city's harbour.
Before their upturned vessel – which they had scrambled on top of – was dragged down past Victoria Bridge and into the harbour, an opportunity arose for one coach from the ASRA to throw them a lifebelt from the banks of the River Dee.
However, when the coach went to toss the flotation ring to the children, he discovered a rope on the device had been cut.
---
>> Keep up to date with the latest news with The P&J newsletter
---
The Aberdeen Water Safety Group, which includes the city council, coastguard, RNLI and other organisations, was established following the tragic drowning of Aberdeen mum Julie Walker and her six-year-old son Lucas in 2016 at the city's beach.
The group agreed in 2017 that all lifebelt equipment owned by the city council should be inspected weekly and yesterday the city council confirmed it had inspected all of its lifebelts in the area and said they were all fine.
Nonetheless, Torry councillor Catriona Mackenzie last night found a city council lifebelt, just to the west of Victoria Bridge, with its yellow rope – used by struggling people in water for increased grip – cut and frayed at one end, although the blue rope was still in place.
Ian Duncan, a coach for the ASRA said: "Whoever did this clearly never thought it could be used to save the life of their own family, or a friend, or a loved one.
"I just have no idea how someone could take pleasure from vandalising such important equipment."
Ms Mackenzie said: "It is stupid, irresponsible and cruel to vandalise a public device that is there to save lives, and anyone with information on this alleged vandalism should contact police immediately."
A spokeswoman for the city council said: "We would strongly ask people not to vandalise or move lifebelts as they can literally be a life-saver."
On Sunday, the girls were plucked from the River Dee by coastguard and lifeboat teams.
They were praised for remaining cool and calm, despite the peril they found themselves in.