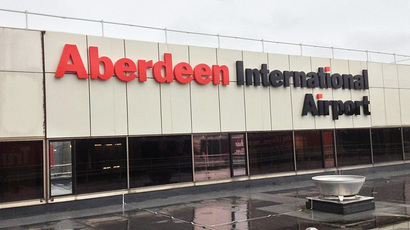 Strike action at Aberdeen International Airport could be averted if mediation talks next week are successful.
The Unite union has agreed to talks with airport bosses and Advisory, Conciliation and Arbitration Service (ACAS) next week.
Last night, its regional industrial officer Shauna Wright said ballot papers had been posted, but confirmed they had agreed to sit down again with the airport chiefs.
She said: "We will still go ahead with the ballot – as the mandate from staff was huge – it was one of the biggest turnouts we have ever had.
"However, we have agreed to sit down again and we wouldn't be doing that if we were not hopeful that we can come to an agreement.
"The last thing Aberdeen airport users need is industrial action – especially over the summer months."
Staff are considering the strike action following threats to remove their final salary pension scheme together with a "derisory" 1.8% pay increase offer.
Ken McLeod, president of the Scottish Passenger Agents' Association, was cautious about the development.
He said: "The opening of the ballot on strike action by Aberdeen Airport staff will only put another barrier in the minds of many holidaymakers who are already understandably concerned about how the final outcome of the Brexit negotiations may impact on their travel plans.
"Many assurances have been provided by the Government, the EU and ABTA that Brexit negotiations will have no bearing on flights this summer, but holidaymakers are still hesitant to commit to booking.
"The threat of strike action – regardless of the rights and wrongs – does nothing to help consumer confidence.
"The reality is that many holidaymakers from Aberdeen and the surrounding area already use other Scottish airports for leisure travel. So any strike action during peak periods could drive even more passengers on to Edinburgh Airport where no industrial action is planned."
A spokeswoman for Aberdeen international Airport said: "A date has been agreed with Unite for discussions with ACAS. We hope for a positive outcome for all parties."
The ballot will close on 23 April and, if strike action goes ahead, is expected to take place between May, June and July.