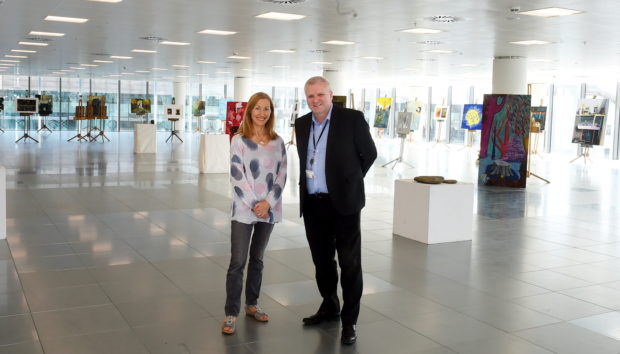 Art students have exhibited their work in an eye-catching building in the centre of Aberdeen.
The second year Gray's School of Art students were tasked with hosting a show – and ended up securing space in The Silver Fin building in Union Street.
Around 60 artworks, created by 40 painting and contemporary art students, are on display.
Upwards of 250 people were expected to attend to opening night in the office building last night.
Student Margaret Brown said: "It's hugely exciting because this is a vast, pristine, blank canvas of a room – and has space for all students to exhibit at least one piece of work.
"The views of the city and the lighting are superb.
"Some of the firms in the building have even shown an interest in some of the artwork."
The nine-storey office building is owned by the British Airways Pension Fund.
Managing director of property agents CBRE Aberdeen, Derren McRae, said : "The students were looking for a different venue.
"It seemed appropriate to show off their best work and offers one of the best views of the city.
"The likes of NuArt in Aberdeen have really turned my attention to art, and I'm not the only one."
The show is open to the public on Wednesday and Thursday, between 10am-4pm.
Registration on EventBrite is essential for entrance to the Two Halves exhibition.