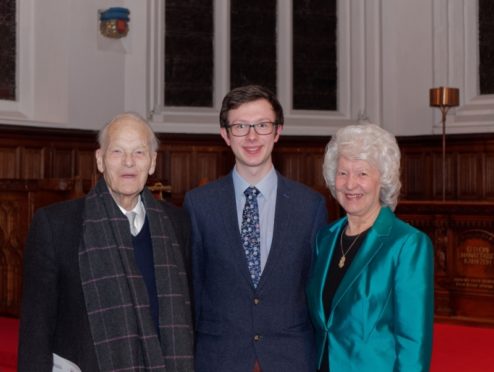 An Aberdeen University professor has been celebrated with a special concert in recognition of his 70 years of service.
Music students gathered to pay tribute to Professor Derek Ogston's "distinguished career and outstanding contribution" to the establishment during the event at King's College Chapel.
Professor Ogston, 87, first stepped foot onto the campus at the age of 17 and, after securing an arts degree, went on to study for a career in medicine.
He graduated in 1957, joined the teaching staff in 1962 and became professor of clinical medicine in 1983.
Despite being an expert in medicine, Prof Ogston retained a great passion for music.
His support for the Opera Society and the King's College Chapel Choir resulted in exceptional opportunities for students, and several Ogston Scholarships have been awarded to help talented youngsters hone their craft.
Ogston awards are presented each year following graduations, including the prestigious Ogston Prize.
The octogenarian also contributes financially to support groups and help ensembles to visit and perform at the university.
In 1995 he was made a CBE, and in 2007 he was awarded with an honorary degree from the university in recognition of his outstanding contribution.
Dr Phillip Cooke, head of music, said: "This concert was a small token of appreciation to Derek and recognition of the incredible service he has given to the university throughout his career."
Prof Ogston said: "I cannot tell you how surprised and honoured I was by the magnificent concert performed by the music students on the occasion of my 70th year in the university.
"I was also so touched by the comments made by the students. It has been the highlight of my time in the university."