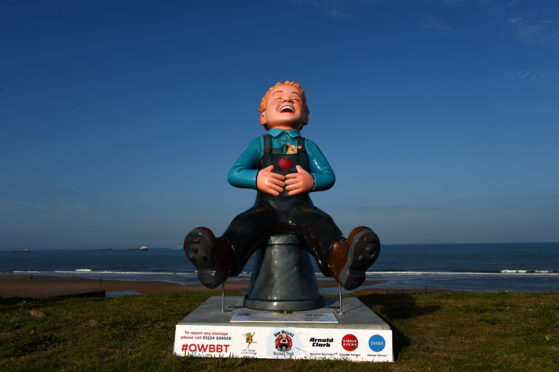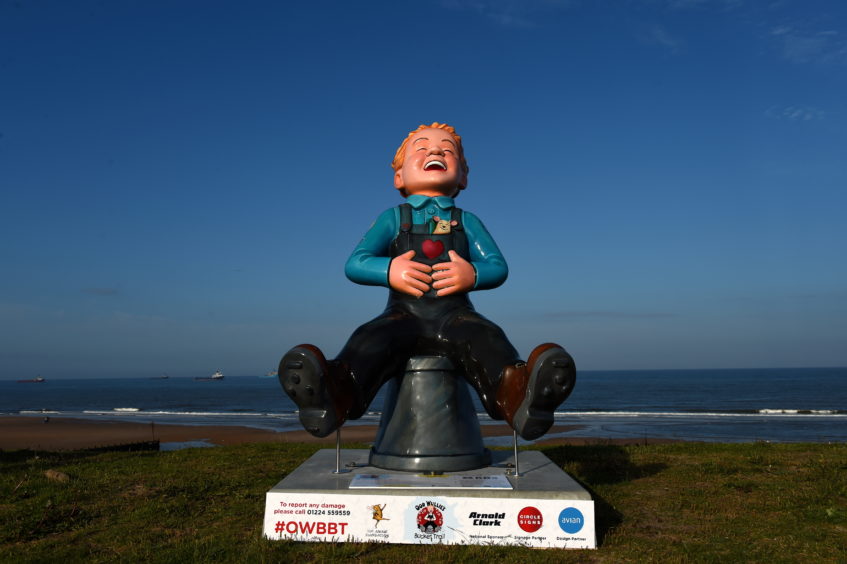 Statues of Scotland's favourite schoolboy were deposited on the streets of Aberdeen and Inverness in stealthy overnight operations at the weekend, ahead of the official launch of a new nationwide trail today.
Artists have adorned 200 sculptures of Oor Wullie, captured sitting on his trademark bucket, with various eye-catching designs and the works of art will now be on public display for the next 11 weeks to raise funds for children's hospital charities.
Oor Wullie's Big Bucket Trail features dedicated routes in the Highland Capital and the Granite City, where people can spy the legendary comic book character in numerous guises.
But several fans refused to wait for the official launch, and went out hunting for the dungarees-clad mischief-maker yesterday.
Gerald and Gillian Paton travelled to Inverness from Invergordon with children Finlay and Abbey to seek out as many as they could.
Mr Paton said: "It's a really cool thing for the kids to see, and it's something different.
"We are using it to run out the kids and it gets us all out and about. They really are fantastic and the money couldn't go to a better cause."
One particular statue is already proving to be an early favourite among fans in Aberdeen.
The interactive Wullie has been designed by Aberdeenshire colouring book artist Johanna Basford, and its musical playlist featuring tunes like You Cannae Shove Your Granny Off a Bus brought back happy childhood memories for the crowds.
Julia Litterick, from Aberdeen, was among those surrounding the Duthie Park piece and listened with delight as the Inky Wonderland Wullie played one of her favourite songs – Three Craws.
She said: "I remember sitting on my granny's knee as she sang that song to me as a little girl. We used to sing all these songs either jumping rope or when we were out playing with our pals – it's really quite catchy."
The intricately detailed statue is situated at the Winter Gardens within the park, and has a second bucket for visitors to try out.
Each time anyone sits on it, the statue plays a different Scottish tune they can sing along with.
Betty MacNicol, who was visiting Aberdeen from Golspie for a family gathering, said she "loved" all the different tunes.
Statues have also been placed in Dundee, Edinburgh, Glasgow, Perth and Stirling as part of the project.
There will be a dedicated mobile phone app, advising people of the whereabouts of each one.
Fundraising manager for The Archie Foundation, Jamie Smith, led his stealth installation team as they deposited the statues in Aberdeen overnight at the weekend.
He said: "I hadn't realised how much interest they would raise, especially late at night.
"People who saw us dropping them off came and spoke to tell us how much they love them. One wee boy from Peterhead was delighted that he could go away and say that he had been the first person to see them."
Find your nearest Wullie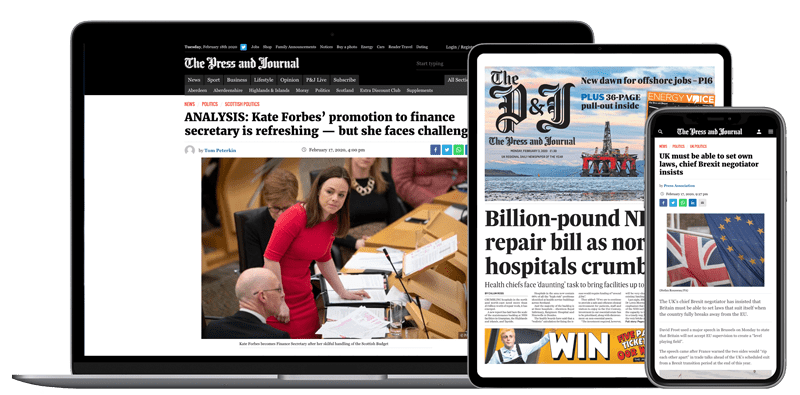 Help support quality local journalism … become a digital subscriber to The Press and Journal
For as little as £5.99 a month you can access all of our content, including Premium articles.
Subscribe