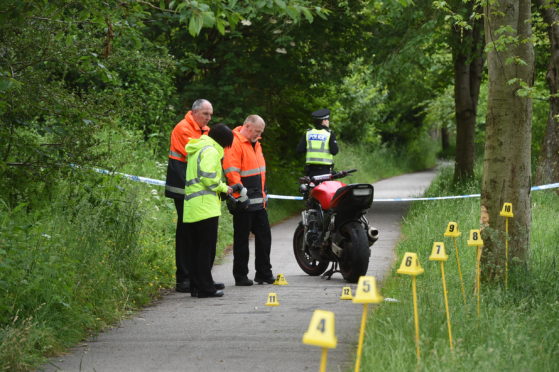 A police watchdog is investigating after a motorcyclist suffered serious injuries when he crashed into a tree.
The Police Investigations and Review Commissioner (PIRC) has launched a review into the incident, which unfolded in the early hours of yesterday.
Eight police cars chased the bike from the Westburn Road area of Aberdeen to Thorngrove Avenue after it failed to stop.
Shortly after, about two miles away, the red Yamaha crashed into a tree on the Deeside Railway Line, near the junction with School Road in Cults.
The 28-year-old rider was taken to Aberdeen Royal Infirmary in a serious condition. It is not clear if he was wearing a helmet.
His passenger, also aged 28, was uninjured and has been arrested.
Yesterday, residents of the nearby Rorie Court flats said they had been woken up by the "commotion" at about 12.15am.
One pensioner, who did not want to be named, said she heard shouting and screaming and saw flashing lights outside her bedroom window.
"I thought it was aliens," she said. "I thought I must be dreaming.
"I was so frightened I phoned my sister.
"There were police cars lined up all the way up the street and an ambulance."
Other witnesses later saw a portable tent being erected near the entrance to the Deeside Line.
Crash investigation officers remained at the scene for 10 hours scouring the area for clues and until the motorbike could also be recovered.
Last night Inspector Neil Morrison, from the roads policing team, appealed for witnesses to come forward and said: "Any dash-cam footage or private CCTV in particular could be extremely useful."
A spokeswoman confirmed the force's professional standards department had referred the matter to PIRC.
She said: "Prior to the incident, efforts had been made by officers to stop the motorcycle in the Westburn Road area of the city and a short pursuit was authorised which ended in the Thorngrove Avenue area.
"The incident happened near the junction with School Road, Cults, at around 12.15am whereby the motorcycle collided with a tree.
"The 28-year-old rider was taken to Aberdeen Royal Infirmary where he is being treated for serious injuries. A passenger, another 28-year-old man, was not injured and has been arrested in connection with the incident."
A PIRC spokeswoman said: "The incident was referred to the PIRC by Police Scotland as is standard procedure and a report will be submitted to the chief constable in due course."