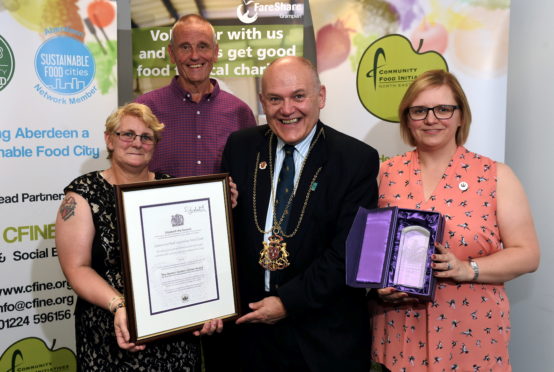 A social enterprise is celebrating a prestigious award for its voluntary work.
Aberdeen-based Cfine has been honoured with the Queen's Award for Voluntary Service – the highest award a voluntary group can receive in the UK.
Lord Provost Barney Crockett was present yesterday to present it to the organisation.
Dave Simmers, Cfine chief executive said in advance: "Our volunteers, staff, management and the board are looking forward to the honour of being presented with this most distinctive award for voluntary service by the Lord Provost.
"Cfine simply could not function without our volunteers whose time and energy is much appreciated.
"The incredible staff team with our volunteers mean we can provide support to thousands of beneficiaries annually."
Cfine support 350 volunteers throughout the year, three of whom have volunteered for more than 11 years.
Its army of volunteers includes a diverse age range from adolescents to OAPs.
Some dedicating their free time are busy completing their Duke of Edinburgh Award, while others are adults with additional needs or learning difficulties.
A spokeswoman for the organisation added: "They are the backbone of the organisation; giving up their free time to help with tasks such as making up food parcels, operating a food bank and Community Food Outlets (CFOs), administration, warehousing and so on.
"The hard work of its volunteers allows CFINE to alleviate and work towards terminating poverty in the north-east."