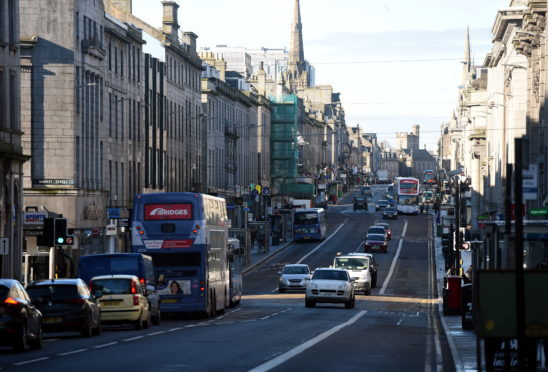 Pollution levels have plummeted in the centre of Aberdeen since the £745million bypass opened earlier this year.
Early data shows that nitrogen dioxide (N02) rates have hit their lowest levels in recent years on key routes such as Union Street, Market Street, King Street, Anderson Drive and Wellington Road.
Transport Secretary Michael Matheson last night welcomed the "positive findings" and confirmed they were in line with indications observed by the Scottish Government.
After decades in the planning, and several construction delays, the Aberdeen Western Peripheral Route (AWPR) finally opened in full in February this year.
In the first complete month after drivers began using the 36-mile road, provisional figures appear to show an immediate impact on pollution, as many motorists began using the bypass instead of travelling through the congested city centre.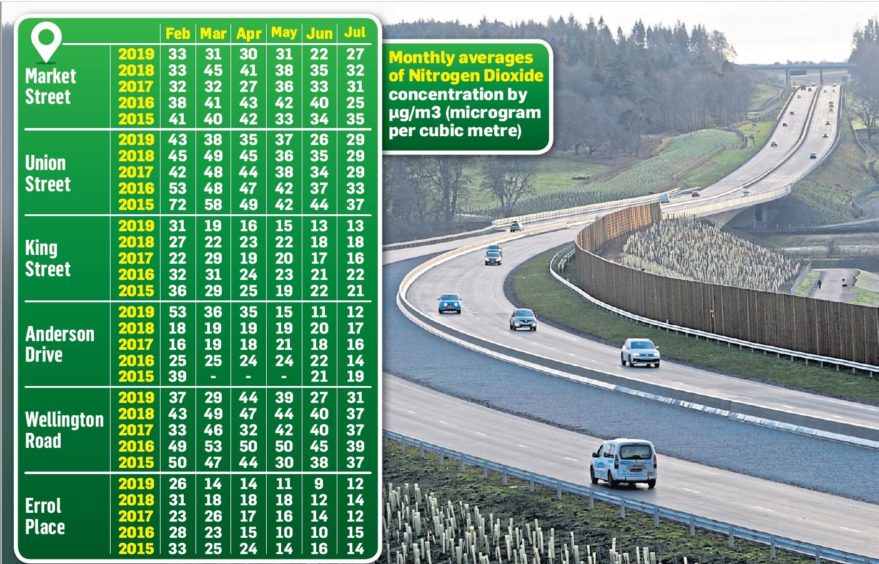 Data from Air Quality in Scotland suggests that N02 rates in March hit at least a five-year low on Union Street, Market Street, King Street, Wellington Road and Errol Place, when compared to the same month in previous years.
And in June, all six pollution counters in Aberdeen city centre recorded the lowest levels of the toxic exhaust fume chemical for at least five years.
King Street has hit a five-year low in every month since the AWPR opened, while the same trend was recorded in Union Street for four of the last five months.
Other pollutants were also shown to have dropped in some areas, including the rate of PM2.5 particles, which cause the air to appear hazy and hit a five-year low on Union Street in four of the last five months.
Pollution levels have been reducing in city centres anyway, because of more advanced vehicle engine technology, but the data indicates that the opening of the AWPR may be accelerating the decline in Aberdeen, as was hoped.
Last night, Mr Matheson said: "We welcome these positive findings which are in line with our own early conclusions which showed that on average the traffic volumes on the AWPR equate to around 50% of the daily traffic previously recorded using the old A90 through Aberdeen city centre.
"However, we are continuing to monitor the impact of the AWPR to better understand the effect it is having on the city.
"Improving air quality and reducing traffic volumes in Aberdeen City, and in the process making pedestrian and cycle travel easier, safer and more enjoyable, were key aims of the project from the outset."
Aberdeen Central MSP Kevin Stewart said: "I have noticed a huge reduction in traffic congestion and so it is wonderful to learn that pollution levels within the city have fallen as a result."
It is hoped that pollution levels in the Granite City will reduce further when a new low emission zone (LEZ) is introduced next year.
Glasgow became the first of Scotland's four biggest cities to launch a LEZ earlier this year, with the initial phase setting European emission standards, which must be met by 20% of buses which pass through the city centre.
A second phase, due to be implemented in December 2022, will apply to all vehicles entering the zone.
The British Lung Foundation (BLF) has previously demanded action from authorities in Aberdeen, saying the city had "some of the worst polluted streets" in Scotland.
Joseph Carter, head of BLF Scotland, said: "Whilst it is welcome to see a reduction in nitrogen dioxide levels in recent months in Aberdeen, we need to gather more data to see if this reduction persists over the long-term.
"It is also important to realise that there remains unacceptably high levels of other types of pollution on Aberdeen's streets. Chief among them is PM2.5 pollution, which is closely linked to respiratory illness.
"There is no safe level of PM2.5 and the only way to make substantial long-term reductions is to encourage uptake of cleaner, more sustainable forms of transport.
"There is no one single solution to the public health crisis caused by air pollution and we need to see consistent action taken to reduce harm from it."
He added: "The Aberdeen bypass should not be used as an excuse to water down other policies which will improve air quality in Aberdeen.
"That's why Aberdeen City Council should uphold its commitment to introducing a low emission zone by publishing its plans at the earliest opportunity."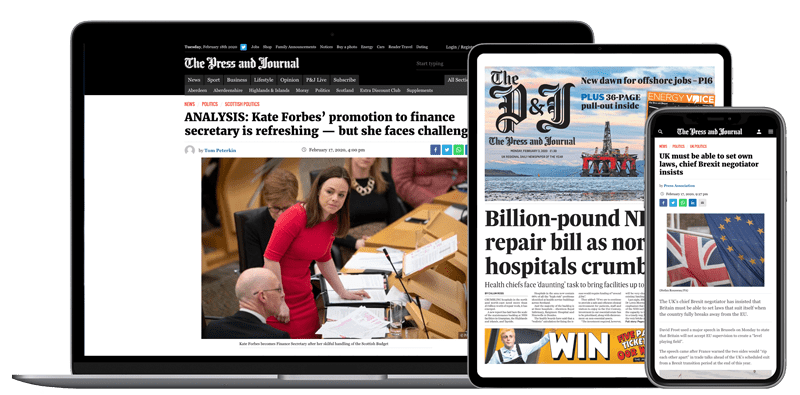 Help support quality local journalism … become a digital subscriber to The Press and Journal
For as little as £5.99 a month you can access all of our content, including Premium articles.
Subscribe