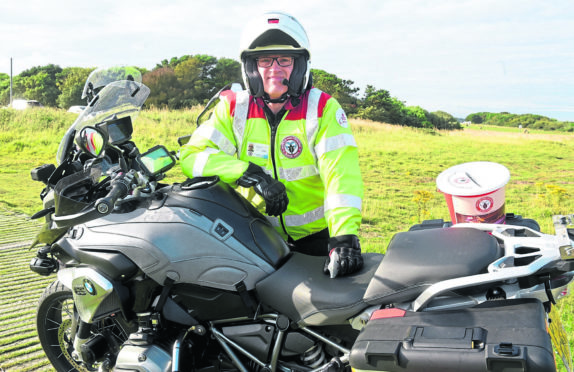 Neil Powers is a familiar sight in Aberdeen, with his fluorescent jacket and emblazoned motorbike.
He may have only started working with NHS Grampian last year, but word has spread to the extent that Neil found himself the recipient of a good deed by a stranger.
After starting his shift with North East Rider Volunteers Scotland, (NERVS) Neil topped up on fuel before continuing to an important fundraising event.
But on going to pay, he discovered a fellow driver had covered the cost after spotting Neil on the forecourt.
The call went out on social media and the kind donor was identified as Liam Wilson, an offshore worker who lives in Countesswells.
His kindness was proof that NERVS continues to make a difference to potentially thousands of people across the north-east, and even further afield.
The group is part of the Nationwide Association of Blood Bikes, and provides free transportation for health services, including Aberdeen Royal Infirmary.
Neil, who is an electronics technician by day, founded the north-east group in 2015, and signed an agreement with NHS Grampian last year.
There are now more than 200 volunteers who give up their time to transport a variety of items, from medication to surgical tools and equipment.
Neil was inspired to start the group after his wife, Kate, was diagnosed with breast cancer, followed by a rare autoimmune disease.
Neil also suffered a heart attack two years ago, and the couple believe they will be forever in debt for the excellent care they received from the NHS.
They even returned to the ward where Kate underwent treatment after getting the call that an item needed to be urgently transported.
Neil is now hoping to attract more volunteers, and is currently in talks with Dr Gray's Hospital in Elgin.
"My main inspiration for starting the group up was Kate," he said.
"She was diagnosed in 2007 and went on to raise £25,000 for Cancer Research UK.
"I saw first-hand the amazing treatment she received from the NHS despite the many constraints, and that started me thinking.
"I knew of only one other group providing this service, they were based in the west.
"Kate was then diagnosed with an exceptionally rare auto-immune condition called dermatomyositis.
"She required transfusions which lasted four days and had to go into hospital every nine weeks.
"That strengthened my resolve and things got off the ground after word spread on social media."
NERVS received 122 call outs in just one month earlier this year, but volunteers do not transport blood or organs.
The Scottish National Blood Transfusion Service has its own staff for transportation.
"The namesake for Blood Bikes is actually a legacy as to how things all started, way back in the Sixties," said Neil.
"It was back in the day of mods and rockers, who would fly around on their bikes and crash.
"They'd arrive in hospital to get patched up and staff would ask them to transport something on their bike when they left."
Blood Bikes was born. "These days we transport medication, hospital equipment and we can also transport donated breast milk, which is often used in neonatal units."
Neil believes the service is having a direct impact on reducing bed-blocking for NHS Grampian, when patients are unable to return home without medication.
"A nurse who treated Kate told us that thanks to the riders and drivers, beds were becoming available much quicker," said Neil.
"When someone is discharged with medication, they need to wait for their tablets to arrive.
"This can take the best part of a day, while other patients are waiting for beds.
"Now the patient can be sent home, and we arrive to collect the medication and deliver it to them.
"We also have four-wheelers, and were able to transport a ventilator for a very poorly child who was in a hospice."
Volunteers work on a monthly rota, with the final shift finishing at 10pm.
"You have to be over the age of 25 and have a maximum of six points on your licence," said Neil.
"All our volunteers also have basic disclosure."
There are three bikes and two four wheelers available for each shift, including an ex-police bike.
"The bikes are called Kate, Tracie and Beryl," said Neil.
"I think in the beginning there was a reluctance to ask for our help, because we were new and people didn't know much about us.
"They thought we'd be these hairy bikers.
"But we've already done so much good and we are always looking for volunteers, particularly in the Moray area so we can start helping Dr Gray's Hospital.
"We're also looking for a corporate sponsor.
"It is a lot of hard work but I have no regrets."
For more information or to apply as a volunteer, visit www.nervs.org.uk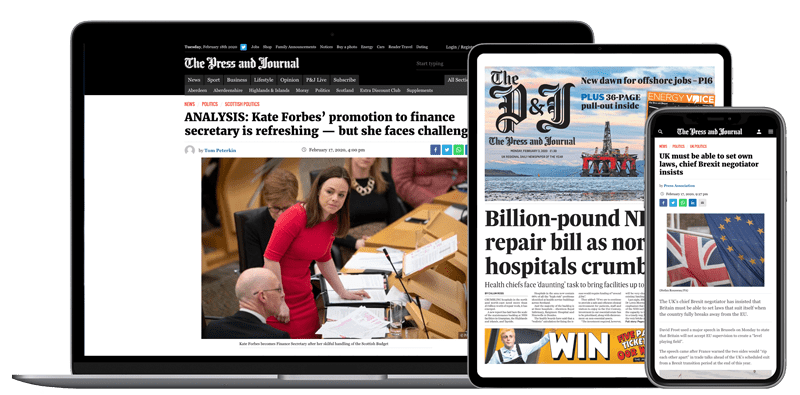 Help support quality local journalism … become a digital subscriber to The Press and Journal
For as little as £5.99 a month you can access all of our content, including Premium articles.
Subscribe