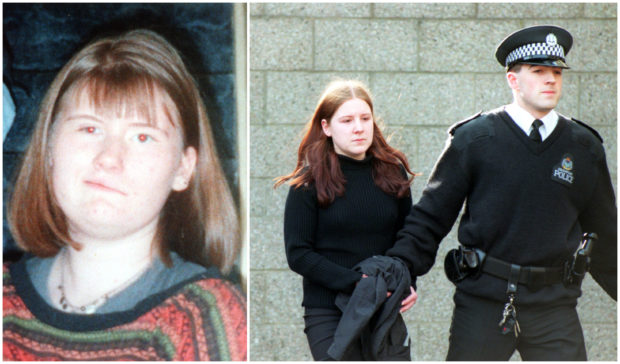 The mother of an Aberdeen murder victim has made an emotional appeal for her daughter's killer to apologise and explain why she did it.
Melanie Sturton was brutally knifed to death in her Great Western Road flat 20 years ago today, and robbed of £30, some gift vouchers and "worthless trinkets".
Her neighbour Pamela Gourlay was convicted of her murder and served 14 years in prison – but her motive is still unknown.
Miss Sturton's mother, Susan Patrick, hit out at the sentence in 1999 and still believes today that there was "no justice" for her 22-year-old daughter.
Now Isla Traquair, a journalist who covered the story for The Press and Journal story at the time, has launched an eight-part podcast series to help Miss Sturton's family find the answers they have been seeking.
Last night, Mrs Patrick, who lives in Ballater, said she was pleased the case was being brought back into the spotlight and highlighted the need for more support for victims' families.
She told the P&J: "This has been with us for so long and it never goes away. My daughter was a kind person, somebody who was only starting out in life, but who had it torn away from her and for what? We have never found out.
"Gourlay was treated as a child at the trial, but she was 20, so she wasn't a child. She was somebody who committed a premeditated murder, but is now free and able to enjoy the rest of her life, something she denied Melanie.
"Even if she said 'sorry' now, it wouldn't bring my daughter back, but at least it would make a difference, and especially if she told us why she had done it.
"I'm glad Isla has made these podcasts, because I have never been able to forget what happened all those years ago.
"But here we are, 20 years later. She (Gourlay) has been supported and been allowed to get on with the rest of her life after getting out of prison at 34.
"There is no justice in that, none at all. The sentence should have been longer and should have reflected the horrific nature of the crime, but the system is rubbish and it doesn't help the victim."
The murder and subsequent trial were among the first major stories Ms Traquair covered for the P&J.
She said: "This story has stuck with me. It was my first big murder case and it deeply affected me for many reasons.
"The horrific nature of the injuries – Melanie's neck was almost severed – the fact it happened in the apparent safety of her home, obviously the shock of learning who had been charged with the murder, then all the twists and turns of the trial.
"Yes, Pamela was convicted and served her time but there was no motive."
The eight-part podcast series, The Storyteller: Murder Most Foul, features interviews with people involved in the case including a senior investigator, pathologist, forensic scientist and Gourlay's legal team.
She added: "Every single person I have interviewed has said the same thing: they want to know why.
"I have approached Pamela. She knows this is happening and we are awaiting her answer but I am hopeful she will do the right thing after all this time and talk to me so this family can finally get some form of closure."
The first episode of The Storyteller: Murder Most Foul is available on podcasting services including iTunes and Spotify from today.