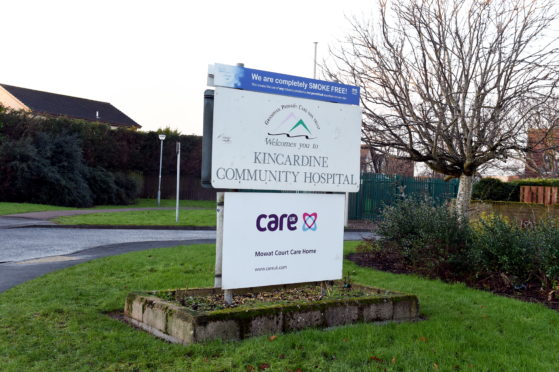 The crumbling condition of community hospitals in the north-east is preventing cleaners from being able to disinfect them properly, a recent inspection has found.
Officials from Healthcare Improvement Scotland recently visited smaller NHS Grampian hospitals across the region and yesterday published a report flagging several concerns.
The institutions which came under scrutiny were Abyone,  Fleming in Aberlour, Glen O'Dee in Banchory, Seafield in Buckie, Jubliee in Huntly, Stephen Hospital in Dufftown, Kincardine in Stonehaven, Turner in Keith and Turiff.
As a result of the visit, the health board has been told to tighten up its training and ensure buildings are adequately cleaned to minimise cross-infection.
The inspection revealed that it wasn't possible to clean and decontaminate in some areas due to the poor condition of the buildings.
Missing ceiling panels in a patient waiting area and damaged floors due to water ingress were among the issues found in one hospital, which was not identified in the document.
The inspectors found dusty vents above patient beds in one of the inspected venues.
Broken surfaces, loose laminated flooring and broken sealants around toilets, sinks and showers were also noted.
And when asked, staff were unable to describe the training requirements for infection prevention.
Although there was evidence of staff completing training, there was no consistent or reliable system that monitored this.
Senior nurses told inspectors that cleaning resources were being reviewed after staff reported concerns over the lack of weekend domestic cover.
This impacted nursing times as they had to pick up duties which were normally carried out by domestic workers.
NHS Grampian said it recognised the "need for further improvement" and welcomed the report.
A spokeswoman said: "The report has laid out a number of requirements for us as  a board.
"Work on implementing these is already under way and a full action plan has been submitted to Healthcare Improvement Scotland. This can be read in full on their website.
"As inspectors have highlighted, staff knowledge of – and adherence to – standard infection prevention and control precautions was good and equipment is cleaned to a good standard."
The inspections were carried out between August 13-15.