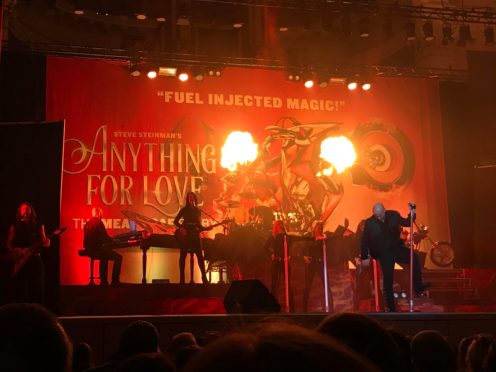 You may never have heard of Lorraine Crosby but as one half of a worldwide hit single, you have heard her voice.
And that voice was on stunning form at Aberdeen Music Hall tonight during a stage show celebrating her co-singer on that smash hit, Meat Loaf.
Crosby was picked over the likes of Cher to sing the female vocals on I'd Do Anything For Love (But I Won't Do That) in 1993, which went on to reach number one in 28 countries.
She has shared the microphone with luminaries such as Elton John, Rod Stewart and Bonnie Tyler – who her powerful vocals bear more than a passing resemblance to.
And now she has teamed up with seasoned Meat Loaf performer Steve Steinman for his latest tour celebrating the legendary rocker.
It was with flashes of strobe lighting and the revving of a motorbike that the show burst into life – and it remained at full-throttle all night.
It was a high-quality spectacle which had the audience singing throughout.
Steinman cuts an unassuming figure but he has been singing as Meat Loaf for the better part of three decades and practice has obviously made perfect.
This was no mere tribute show, and it drew to a close with bursts of flame exploding from the stage as the singer boomed Bat Out Of Hell – and the packed crowd roared every word back.