Leading Aberdeen retail bosses have called for the urgent pedestrianisation of the city's famous Granite Mile.
Shop chiefs from the Bon Accord Centre, Marks and Spencer, John Lewis and Debenhams want cars banned from Union Street, between Market Street to Bridge Street, and a system of bus and bike access only introduced, akin to that on Broad Street.
Such steps are part of the 25-year city centre masterplan unanimously approved by councillors in 2012 in an attempt to breathe new life into the area.
But during an exclusive interview with the P&J, some of the city's major retailers said some shops may have disappeared from the city if it takes that long.
They warned that "urgent" action is required now to reflect the massive changes in the retail industry since the plan was first approved.
Union Street has suffered from the downturn in oil and gas, with double-digit decreases in footfall – comparably worse than most other cities in the country.
Empty shop units abound – including the likes of the former mainstay BHS  and while there are plans to rejuvenate parts of the retail offering, the once great shopping street is declining.
Last August, Broad Street reopened only to buses and bicycles after a controversial £3.2 million pedestrianisation project.
And now shop bosses say a similar scheme between Market and Bridge Streets could provide a similar "boost" to the beleaguered granite mile.
Your views: Do you think Union Street should be pedestrianised?
While the retailers praised what has already been delivered through the masterplan, like Broad Street and the Art Gallery redevelopment, they would like the Union Street plan to be put to the top of the list – and said cash from national government may be required.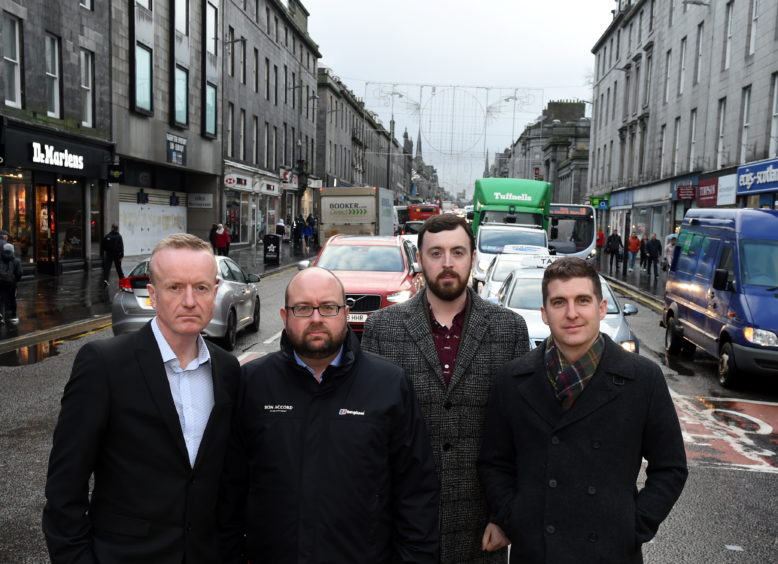 John Lewis store manager, Jamie Wishart, said the footfall decline on Union Street was up to four times worse than the Scottish average.
He said: "Retail is changing and that pace of change is getting faster.
"There is a need for pace to allow us to thrive in the city. We have been here for 30 years and we want to continue."
Michael Bracken, from Debenhams, said: "It's about linking up the city centre and making Union Street the heart of it- which at the moment it's not.
"Major cities across Scotland are looking at similar plans- we have got the framework on paper so it is just about allowing us to speed that up."
Craig Stevenson, is general manager of the Bon Accord centre and delivered a stark assessment of Aberdeen's retail offering.
He said: "When we look at the heart of our city, it is perhaps now not fit for purpose.
"What was acceptable years ago now isn't and customers and visitors to our city expect more.
"There have, however, been massive and positive changes in the city in recent years.
"I think now is the time to look at Union Street and ask the question 'what can we do to improve it?' rather than focus on what's not possible.
"The biggest win for us in Aberdeen is right in the core between Bridge Street and Market Street."
Neil Hansell, manager at Marks and Spencer, also believes speed is of the essence and believes that swift change should be achievable.
"The proposal we are putting forward really isn't a new approach, as it is in the city masterplan," he said.
"We believe that making a small stretch of Union Street pedestrianised would help all business benefit in the city."
And Adrian Watson, chief executive of city centre business body Aberdeen Inspired, says now is the perfect time to move forward apace with the plans for Union Street.
He said: "With the AWPR now taking unnecessary journeys out of the city centre and lessening congestion and pollution, now seems the time to seriously consider the opportunities that part-pedestrianisation of a stretch of Union Street will offer our businesses and of course the wider north-east public"
He believes the steps outlined could help to make Aberdeen once more "a destination of choice", coupled with its other attractions.
Mr Watson added: "With that in mind, we trust that national government will look to support the discussion and consider funding opportunities that bring such a project to life and in early course."
Council co-leader Jenny Laing said the council was keen to speak with retailers but that any plans had be formulated and carried out "strategically".
She said: "It was clear from the consultation undertaken for the masterplan that residents want to see a more pedestrian-friendly city centre.
"However as an administration we always want our schemes to be done strategically and not piecemeal so it would be important to analyse how this would work and ensure we had the infrastructure in place first."
The background
North-east residents are known for their love of cars, with higher comparable ownership figures when compared to other parts of the country.
But despite the Granite City's reputation as the oil and gas capital of Europe, local authorities are now looking seriously at tackling climate change.
Some of Aberdeen's streets, like King Street and Wellington Road, have been identified as among the most polluted in Scotland.
But with the opening of the long-awaited AWPR, the city council is looking closely at new traffic measures.
As part of Scottish Government plans, low emission zones (LEZs) would be introduced in several cities, including Aberdeen, to drive down air pollution.
This could mean drivers of certain vehicles either being banned from city centres or having to pay a London-style congestion charge.
One of the more controversial aspects of the council's 25-year city centre masterplan was a vision for a car ban on parts of the city's Union Street.
Broad Street has already been closed to all but buses and bicycles and the long term vision is to repeat this on the famed Granite Mile.
Proponents say this can inject new life into the flagging city centre and make it more a more attractive prospect to both residents and businesses.
But in an era of ever increasing council cuts, and with massive multi-million pound schemes like the P&J Live, Art Gallery, Music Hall and Union Terrace Gardens projects, it remains to be seen how much is left in the kitty for the remaining term of the masterplan.