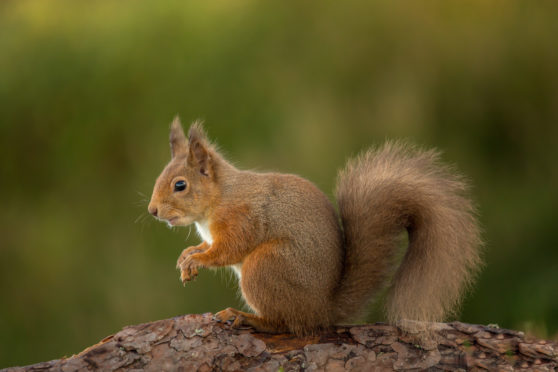 The red squirrel is making a comeback to Aberdeen after being outrun by their grey counterparts.
In the 1970s grey squirrels were introduced to the Granite City and rapidly spread into rural areas – beating off competition from red squirrels for food and habitat.
As their population boomed, the red squirrels fell into decline.
But now, thanks to Saving Scotland's Red Squirrels, the animals are again being spotted around the city.
Their targeted control has and population monitoring has been rewarded with increasingly frequent red squirrel sightings in Duthie Park and Aberdeen University.
And across Scotland, 828 were spotted in just one week.
Project manager Mel Tonkin said: "Sightings records give us a good indication of how red and grey squirrel populations are distributed. Monitoring changes in these populations over time helps us understand the situation and make better conservation decisions."
In total 630 red squirrels and 198 grey squirrels were spotted during a recent survey. The data looked at many parts of Scotland that are not directly covered by ongoing population monitoring work.
In the north-east, the only grey squirrel sightings were concentrated in Aberdeen.
Mr Tonkin added:"More people went out looking for red squirrels in the survey, which isn't too surprising as our native reds are one of Scottish wildlife's star attractions.
"However, we suspect that a good many more grey squirrels could have been reported from central and southern Scotland.
"While they may not be as exciting to see, grey squirrel sightings are very valuable, especially in areas where they are spreading into red squirrel territory.
"While out looking for any species of squirrel there is also the opportunity to encounter all sorts of other wildlife and we hope people enjoyed their first Great Scottish Squirrel Survey."
The National Lottery-funded project is also making good progress in maintaining Loch Lomond and the Trossachs National Park as a "red only" zone.