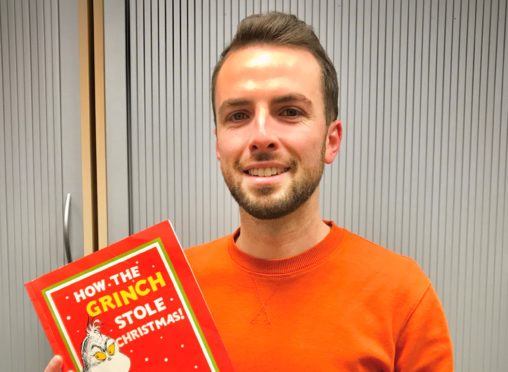 It is one of the world's most famous festive works of literature.
And now, a Doric twist is being given to Dr Seuss's beloved How the Grinch Stole Christmas for a special Yuletide event on Wednesday.
North-east writer and performer Shane Strachan has translated sections of the book for Aberdeen University's Celebration of Carols event in London, including its title – with it now known as "Foo the Grinch Swicked Christmas".
Mr Strachan, originally from Fraserburgh, will read at St Marylebone Parish Church alongside entertainer and performer Robert Lovie and singer, songwriter and broadcaster Fiona Kennedy, who are both honorary Aberdeen graduates.
They will be joined by actress Sophie Kennedy Clark who won a Scottish Bafta for her role in the film Philomena and starred in BBC drama The Cry.
Mr Strachan said: "I'll be reading passages taken from the last half of the book and although this is for a one-off performance, we have seen from the Doric Gruffalo just how well this kind of translation can capture the public imagination.
"How the Grinch Stole Christmas is beautifully written but because it is quite rhymed, it can be tricky to translate this kind of work into Doric with different vowel sounds.
"I was surprised how much of it has come across well but the characters really take on a different dimension in Doric and the Grinch has a more humorous tone!"
"With so many people working in or having access to London, I'm looking forward to reconnecting with people I met during my time who have since moved away.
"I hope that the reading from The Grinch will add to the sense of reconnecting as it's a story most people know and, as all the graduates spent several years living in Aberdeen, they'll have come into some contact with Doric."
The service led by Rev Canon Stephen Evans, who studied at Aberdeen, will also feature the winners of the 2019 Ogston Music Prize, saxophonist Matthew Kilner and tenor David Walsh.
University principal Professor George Boyne said: "Our Celebration of Carols has proved hugely popular and is a way to bring people back together at this important time of year.
"We are delighted to offer an opportunity for them to come together in one of the world's busiest cities and raise money to support university causes.
"All proceeds from the event will support the new Centre for Women's Health."